Here are 210 of the best deep love quotes. The goal? To make you think and, of course, to inspire you on your love journey. That's why you'll find quotes on life, feelings, romance, happiness, and lots more. Enjoy!
The love we give away is the only love we keep. Elbert Hubbard
In love the paradox occurs that two beings become one and yet remain two. Erich Fromm
Deep love means you put your ego aside and accept unconditionally. It means you're a little foolish. It means you're living. Maxime Lagacé
Every true and deep love is a sacrifice. Carl Jung
Each time you love, love as deeply as if it were forever – only, nothing is eternal. Audre Lorde
My love is deep; the more I give to thee, the more I have, both are infinite. William Shakespeare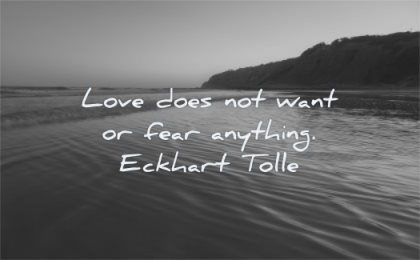 Love does not want or fear anything. Eckhart Tolle
We didn't talk about anything heavy or light. We were just there together. And that was enough. Stephen Chbosky (The Perks of Being a Wallflower, Amazon book)
You never know how deep love grows till you lose it. And you never, never, never realize it's true for you until it's gone. Isaac Hayes
What we have once enjoyed we can never lose. All that we love deeply becomes a part of us. Helen Keller
What I want is for the two of us to meet somewhere by chance one day, like, passing on the street, or getting on the same bus. Haruki Murakami (1Q84)
Those who love deeply never grow old; they may die of old age, but they die young. Arthur Wing Pinero
Every one is worthy of love, except him who thinks that he is. Love is a sacrament that should be taken kneeling. Oscar Wilde (De Profundis)
Love risks everything and asks for nothing. Rumi
O deep love that inspires me to do anything. Christian Morgenstern
See also: short love quotes, quotes to live by, gratitude quotes
The Best Deep Love Quotes
There is only one kind of love, but there are a thousand different versions. François de La Rochefoucauld
Immature love says: "I love you because I need you." Mature love says: "I need you because I love you." Erich Fromm
Paradoxically, the ability to be alone is the condition for the ability to love. Erich Fromm (The Art of Loving, Amazon book)
Absence diminishes small loves and increases great ones, as the wind blows out the candle and fans the bonfire. François de La Rochefoucauld
It hurts yourself to love. It's like giving yourself to be flayed and knowing that at any moment the other person may just walk off with your skin. Susan Sontag
Do things out of love, never for love. Sven Schnieders
Knowing how to be solitary is central to the art of loving. When we can be alone, we can be with others without using them as a means of escape. bell hooks
One day you will realize that material things mean nothing. All that matters is the well-being of the people in your life. @TheGodLight
Forgiveness requires a sense that bad behaviour is a sign of suffering rather than malice. Alain de Botton
The only way you can conquer me is through love, and there I am gladly conquered. Bhagavad Gita
There is no entitlement. Love is either equal or a tragedy. Michael Robotham
Ignore those who count and focus on those who don't. Maxime Lagacé
For a long time, she held a special place in my heart. I kept this special place just for her, like a "Reserved" sign on a quiet corner table in a restaurant. Despite the fact that I was sure I'd never see her again. Haruki Murakami
Of course if he wanted to escape, he could do so. The prison was, after all, his own heart. Haruki Murakami
To love someone is to strive to accept that person exactly the way he or she is, right here and now. Fred Rogers
First love is only a little foolishness and a lot of curiosity. George Bernard Shaw
Give it anytime you want, but don't expect or need it. Naval Ravikant
If you don't look at her in awe, then keep looking. Leo Christopher
We accept the love we think we deserve. Stephen Chbosky (The Perks of Being a Wallflower)
Hate the sin, love the sinner. Mahatma Gandhi
See also: thought of the day
Part 2. Deep Love Quotes That Are…
The Famous Deep Love Quotes (Einstein, Angelou, Emily Dickinson, etc.)
Deep love really exists. Yoko Ono
Nothing awakens us to the reality of life so much as a true love. Vincent van Gogh
Stop letting people who do so little for you control so much of your mind, feelings and emotions. Will Smith
I have decided to stick with love. Hate is too great a burden to bear. Martin Luther King Jr
There are many remedies to cure love, yet none are infallible. François de La Rochefoucauld
Neither love nor fire can subsist without perpetual motion; both cease to live so soon as they cease to hope, or to fear. François de La Rochefoucauld
Perhaps the feelings that we experience when we are in love represent a normal state. Being in love shows a person who he should be. Anton Chekhov
Love is a better master than duty. Albert Einstein
I loved her against reason, against promise, against peace, against hope, against happiness, against all discouragement that could be. Charles Dickens
I hold this to be the highest task of a bond between two people: that each should stand guard over the solitude of the other. Rainer Maria Rilke
There is always some madness in love. But there is also always some reason in madness. Friedrich Nietzsche
Love is a state in which a man sees things most decidedly as they are not. Friedrich Nietzsche
Love is giving someone the power to destroy you…but trusting them not to. Paulo Coelho
A simple 'I love you' means more than money. Frank Sinatra
We never love a person, but only qualities. Blaise Pascal
Love is like a virus. It can happen to anybody at any time. Maya Angelou
I was not yet in love, yet I loved to love…I sought what I might love, in love with loving. Augustine of Hippo
The worst thing you can do for those you love is the things they could and should do for themselves. Abraham Lincoln
Love is its own rescue; for we, at our supremest, are but its trembling emblems. Emily Dickinson
Love is never any better than the lover. Toni Morrison (The Bluest Eye)
When you end up happily married, even the failed relationships have worked beautifully to get you there. Julie Roberts
Love is a promise; love is a souvenir, once given never forgotten, never let it disappear. John Lennon
More famous quotes
Short Deep Love Quotes
One-liners, short deep love quotes, sayings, thoughts and captions for your bio, social status, self-talk, motto, mantra, signs, posters, wallpapers, backgrounds.
Love is never wrong. Melissa Etheridge
Love loves to love love. James Joyce
Love is given, not received. Naval Ravikant
Love, but be careful what you love. Augustine of Hippo
Without justice there can be no love. bell hooks
Love is possible, only by letting go. Maxime Lagacé
Love requires acceptance, not fantasy. @dailyzen
Love is an action, never simply a feeling. bell hooks
There is no intimacy without vulnerability. Brené Brown (Daring Greatly, Amazon book)
Love in four words: Be honest. Listen. Give. @orangebook_
Where love is deep, much can be accomplished. Shinichi Suzuki
Love does not die easily. It is a living thing. James D. Bryden
Love is not an emotion. It is your very existence. Sri Sri Ravi Shankar
Love is life. And if you miss love, you miss life. Leo Buscaglia
The only reward for love is the experience of loving. John le Carré
Everybody deserves love, but nobody is entitled to it. Katerina Stoykova Klemer
True love is eternal, infinite, and always like itself. Honoré de Balzac
Listen more than you talk. Give more than you take. Love more than you fear. Maxime Lagacé
More short quotes
Inspirational And Heart Touching Love Quotes
When I fall in love, it will be forever. Jane Austen
Something great is about to happen to me: I'm about to love somebody very much. Jack Kerouac (Windblown World)
I want a blaze of light to flame in me forever in a timeless, dear love of everything. Jack Kerouac
And in that moment, I swear we were infinite. Stephen Chbosky (The Perks of Being a Wallflower)
Love is a sacred reserve of energy; it is like the blood of spiritual evolution. Pierre Teilhard de Chardin
We weren't lovers, but in a way we had opened ourselves to each other even more deeply than lovers do. Haruki Murakami
Suddenly we see that love costs all we are, and will ever be. Yet it is only love which sets us free. Maya Angelou (See also: freedom quotes)
Knowing that we can be loved exactly as we are gives us all the best opportunity for growing into the healthiest of people. Fred Rogers
Are there any rules when it comes to love. There is just one: Let it change you. Let it leave you better than you were before. Bianca Sparacino (The Strength In Our Scars)
Love isn't just being willing to do anything for someone, but wanting to do everything for them and expecting nothing in return. Leo Christopher
I was always hungry for love. Just once, I wanted to know what it was like to get my fill of it – to be fed so much love I couldn't take any more. Just once. Haruki Murakami (Norwegian Wood)
Souls love. That's what souls do. Egos don't, but souls do. Become a soul, look around, and you'll be amazed – all the beings around you are souls. Be one, see one. Ram Dass
As you dissolve into love, your ego fades. You're not thinking about loving; you're just being love, radiating like the sun. Ram Dass
The most precious gift we can offer anyone is our attention. When mindfulness embraces those we love, they will bloom like flowers. Thich Nhat Hanh
When you love, love as if the person is a god, not less than that. Never love a woman as a woman and never love a man as a man. Osho
If you really love a person, you give them infinite space. Your very being is just a space for them to grow in, to grow with. The mind interferes and tries to possess the person, then love is destroyed. Osho
Apply love to your problem. Love is the great solvent of all difficulties, all problems, all misunderstandings. White Eagle
Love is the crowning grace of humanity, the holiest right of the soul, the golden link which binds us. Francesco Petrarca
Who we are and who we become depends, in part, on whom we love. Thomas Lewis
True love is timeless and limitless: you can't count it and only live it. Maxime Lagacé
See also: positive quotes
Very Deep And Dark Love Quotes
I would die for you. But I won't live for you. Stephen Chbosky (The Perks of Being a Wallflower)
Don't plant your love in someone with no depth and expect something to grow. Billy Chapata
We have the capacity to love only as we have the security of the love of others. Reinhold Niebuhr
What a terrible thing it is to wound someone you really care for – and to do it so unconsciously. Haruki Murakami (Norwegian Wood)
The more we love a woman the more prone we are to hate her. François de La Rochefoucauld
It is impossible to love a second time those whom we have really ceased to love. François de La Rochefoucauld
Make no mistake, there's a price to be paid for those of us who live to love. Leo Christopher
Choose the hard, loving and meaningful over the easy, boring and meaningless. Maxime Lagacé
I have found the paradox, that if you love until it hurts, there can be no more hurt, only more love. Daphne Rae
One rarely falls in love without being as much attracted to what is interestingly wrong with someone as what is objectively healthy. Alain de Botton
The opposite of love is not hate, it is indifference, total absence of emotions. If you still hate someone, it means that you still care about that person. Paulo Coelho
Never pretend to a love which you do not actually feel, for love is not ours to command. Alan Watts
There is no disguise which can hide love for long where it exists, or simulate it where it does not. François de La Rochefoucauld
Love is a fire. But whether it is going to warm your heart or burn down your house, you can never tell. Joan Crawford
A woman knows the face of the man she loves as a sailor knows the open sea. Honoré de Balzac
Between what is said and not meant, and what is meant and not said, most of love is lost. Kahlil Gibran
Love possesses not nor will it be possessed, for love is sufficient unto love. Kahlil Gibran
Unable are the loved to die, for love is immortality. Emily Dickinson
More deep quotes
Wise And Deep Love (Words Of Wisdom)
Love is a skill, not just an enthusiasm. Alain de Botton (The Course of Love, Amazon book)
The most important aspect of love is not in giving or the receiving: it's in the being. Ram Dass
Compatibility is an achievement of love; it shouldn't be its precondition. Alain de Botton
In love, if you're dead sure your misery is entirely your partner's fault, leave. But if there's any risk it might trail you, remain. Alain de Botton
The emotionally intelligent person knows that love is a skill, not a feeling, and will require trust, vulnerability, generosity, humor, sexual understanding, and selective resignation. Alain de Botton
You shouldn't expect anything from anyone or judge anyone. To be free of others, free them from your own expectations. @TheAncientSage
Love is both a firm grip and open palm because loving someone is knowing when to hold tight or let go. Leo Christopher
Our interactions with one another reflect a dance between love and fear. Ram Dass
If I loved myself truly and deeply, would I let myself experience this? Kamal Ravikant
As you love yourself, life loves you back. Kamal Ravikant
Trying to love with your head is like trying to run with your hands. Derek Sivers
When you say "I love you" it means "I can offer you true peace and happiness". Can you already offer them to yourself first? Thich Nhat Hanh
It is difficult to define love; all we can say is, that in the soul it is a desire to rule, in the mind it is a sympathy, and in the body it is a hidden and delicate wish to possess what we love — plus many mysteries. François de La Rochefoucauld
You are never in love with anyone. You're only in love with your prejudiced and hopeful idea of that person. Anthony de Mello
Tell me then, does love make one a fool or do only fools fall in love? Orhan Pamuk (My Name Is Red, Amazon book)
There is no formula for generating the authentic warmth of love. It cannot be copied. Alan Watts
A flower cannot blossom without sunshine, and man cannot live without love. Max Muller
Some say love is risky but the wiser you get, the more you realize not loving is the risk. Maxime Lagacé
More wisdom quotes
Part 3. Deep Love Quotes About…
Deep Love Quotes About Romance
The flower loves it when you give it attention. Eckhart Tolle
Love is a game that two can play and both win. Eva Gabor
We are fascinated by the words, but where we meet is in the silence behind them. Ram Dass
Every movement, every glance, every thought, and every word can be infused with love. Thich Nhat Hanh
And I guess I realized at that moment that I really did love her. Because there was nothing to gain, and that didn't matter. Stephen Chbosky (The Perks of Being a Wallflower)
I have a million things to talk to you about. A million things we have to talk about. All I want in this world is you. I want to see you and talk. I want the two of us to begin everything from the beginning. Haruki Murakami
Sometimes when I look at you, I feel I'm gazing at a distant star. It's dazzling, but the light is from tens of thousands of years ago. Maybe the star doesn't even exist anymore. Yet sometimes that light seems more real to me than anything. Haruki Murakami
I won't ask where you've been all my life, because I know you've always been coming, always drawing closer to this connection that was always meant to be. Leo Christopher
There comes a moment when the silence between two people can have the purity of a diamond. Philippe Djian (See also: silence quotes)
It's a humbling thing when you find someone to love. Even better if you've been waiting your whole life. George Clooney
A successful marriage requires falling in love many times, always with the same person. Mignon McLaughlin
It is the time you have wasted for your rose that makes your rose so important. Antoine de Saint-Exupéry
It was love at first sight, at last sight, at ever and ever sight. Vladimir Nabokov
Love comforteth like sunshine after rain. William Shakespeare
See also: love yourself quotes
Deep Love Quotes About Feelings, Emotions, Falling In Love
Love is what remains when all other emotions are gone. Naval Ravikant
Understanding love is one of the hardest things in the world. Fred Rogers
The most accurate metric for your love of somebody is how you feel about their flaws. Mark Manson
The practice of love offers no place of safety. We risk loss, hurt, pain. We risk being acted upon by forces outside our control. bell hooks (All About Love)
The only thing scarier than telling someone you love them is telling them that you still love them. Ella Dawson (Romantic Gesturing)
Anyone who falls in love is searching for the missing pieces of themselves. So anyone who's in love gets sad when they think of their lover. It's like stepping back inside a room you have fond memories of, one you haven't seen in a long time. Haruki Murakami
It's hard to tell the difference between sea and sky, between voyager and sea. Between reality and the workings of the heart. Haruki Murakami
The human heart is like a night bird. Silently waiting for something, and when the time comes, it flies straight toward it. Haruki Murakami
Maybe it's just hiding somewhere. Or gone on a trip to come home. But falling in love is always a pretty crazy thing. It might appear out of the blue and just grab you. Haruki Murakami
Nobody can help you. That's what love's all about… You're the one having these wonderful feelings, but you have to go it alone as you wander through the dark. Your mind and body have to bear it all. All by yourself. Haruki Murakami
All passions make us commit faults, but love makes us commit the most ridiculous ones. François de La Rochefoucauld
Love is the only reality and it's not a mere sentiment. It is the ultimate truth that lies at the heart of creation. Rabindranath Tagore
We can choose the content of our mind. We can't choose the content of our heart. Maxime Lagacé
See also: letting go quotes
See also: How to Process Your Emotions (3 minutes 24 seconds YouTube video by The School of Life)
Deep Love Quotes About Sadness, Broken Heart
Must being in love always mean being in pain? Alain de Botton (On Love, Amazon book)
All my life, my heart has sought a thing I cannot name. Hunter S. Thompson
When your heart can cry another's sadness, then your heart is full of love. Fred Rogers
Love is the longing for the half of ourselves we have lost. Milan Kundera
There are plenty of ways to die, but only love can kill and keep you alive to feel it. Leo Christopher
Pronounce a lover 'perfect' can only be a sign that we have failed to understand them. We can claim to have begun to know someone only when they have substantially disappointed us. Alain de Botton (The Course of Love)
Sometimes the greatest act of love is to walk away so that the other person can find their true self and direction again. @TheGodLight
I still cannot understand how he could abandon me so unceremoniously, without any sort of goodbye, without looking back even once. Yann Martel (Life of Pi, Amazon book)
Neither of us is happy but neither of us wants to leave so we keep breaking one another and calling it love. Rupi Kaur (milk and honey)
We are biologically, cognitively, physically, and spiritually wired to love, be loved, and to belong. When those needs are not met, we don't function as were meant to be. We break. We fall apart. We numb. We ache … The absence of love and belonging will always lead to suffering. Brené Brown
It is equally as difficult to be contented when one has too much or too little love. François de La Rochefoucauld
Once broken, the heart stays cold for a long time. Once healed, the scar makes it stronger. Maxime Lagacé
Continue to share your heart with people even if it has been broken. Amy Poehler
We are made of all those who have built and broken us. Atticus
More sad quotes
Deep Love Quotes About Life
All, everything that I understand, I only understand because I love. Leo Tolstoy
It's not that I can't fall in love. It's really that I can't help falling in love with too many things all at once. Jack Kerouac
No matter how dark the moment, love and hope are always possible. George Chakiris
When we love, we have no need to understand what is happening, because everything is happening inside us. Paulo Coelho (The Alchemist, Amazon book)
Success in love doesn't hinge on whether the other person is flawed: they definitely are. What matters is how the failings are interpreted. Alain de Botton
To start to mourn people only when they die is a painful oversight; we should preemptively grieve for anyone we love. Alain de Botton
If you can love someone with your whole heart, even one person, then there's salvation in life. Even if you can't get together with that person. Haruki Murakami (1Q84)
But love is much like a dam; if you allow a tiny crack to form through which only a trickle of water can pass, that trickle will quickly bring down the whole structure and soon no one will be able to control the force of the current. Paulo Coelho
Love, like strength and courage, is a strange thing; the more we give the more we find we have to give. Olga Jacoby
Human existence is so fragile a thing and exposed to such dangers that I cannot love without trembling. Simone Weil (Gravity and Grace)
We love life, not because we are used to living but because we are used to loving. Friedrich Nietzsche
The good life: the art of persevering when it's tough and appreciating when it's easy. Maxime Lagacé
See also: inner peace quotes
See also: 6 Ways to Love Your Life More (huffpost.com)
Deep Love Quotes About Relationships, Friendship
We are born to love one another; everything else is an excuse. Paulo Coelho
Listening is the simplest way to validate others. Just listen. Thibaut
When you love someone enough to tell them the truth, chances are you are giving them exactly what they need. Iyanla Vanzant
If you press me to say why I loved him, I can say no more than because he was he, and I was I. Michel de Montaigne
Is it possible to have a relationship with another in which there is no friction whatsoever? That is possible only when I understand what love is. Fred Rogers
Perhaps it is true that we do not really exist until there is someone there to see us existing, we cannot properly speak until there is someone who can understand what we are saying in essence, we are not wholly alive until we are loved. Alain de Botton
What really matters the most is simply this: who you love, who loves you, and how you define what it means to love. Thibaut
Sometimes, all you had to do was exist in order to be someone's saviour. Keigo Higashino
People love you more than you think. Maxime Lagacé
What matters is deciding in your heart to accept another person completely. When you do that, it is always the first time and the last. Haruki Murakami
Love is not something we give or get; it is something that we nurture and grow, a connection that can only be cultivated between two people when it exists within each one of them – we can only love others as much as we love ourselves. Brené Brown (The Gifts of Imperfection, Amazon book)
I define connection as the energy that exists between people when they feel seen, heard, and valued; when they can give and receive without judgment; and when they derive sustenance and strength from the relationship. Brené Brown
One heart is not connected to another through harmony alone. They are, instead, linked deeply through their wounds. Pain linked to pain, fragility to fragility. There is no silence without a cry of grief, no forgiveness without bloodshed, no acceptance without a passage through acute loss. That is what lies at the root of true harmony. Haruki Murakami
While love may make you feel better about your relationship problems, it doesn't actually solve any of your relationship problems. While love is necessary, it is not sufficient for a good relationship. Mark Manson
A true partner or friend is one who encourages you to look deep inside yourself for the beauty and love you've been seeking. Thich Nhat Hanh
Only when your love for someone exceeds your need for them do you have a shot at a genuine relationship together. Neil Strauss
More relationships quotes, friendship quotes
Deep Love Quotes About Happiness
Whatever you decide to do make sure it makes you happy. Paulo Coelho
There is more pleasure in loving than in being beloved. Thomas Fuller
The happiness you feel is in direct proportion with the love you give. Oprah Winfrey
Lord, grant that I might not so much seek to be loved as to love. Francis of Assisi
In order to be happy oneself it is necessary to make at least one other person happy. Theodor Reik
As in friendship so in love, we are often happier from ignorance than from knowledge. François de La Rochefoucauld (See also: zen quotes)
It is not your job to make anyone else happy. Live for yourself with good intentions for others. Iyanla Vanzant
Let us be grateful to the people who make us happy; they are the charming gardeners who make our souls blossom. Marcel Proust
Being happy isn't having everything in your life be perfect. Maybe it's about stringing together all the little things. Ann Brashares
Happiness is only real when shared. Jon Krakauer (Into The Wild)
You do not find the happy life. You make it. Camilla E. Kimball
Perfect love casts out fear. Where there is love there are no demands, no expectations, no dependency. Anthony de Mello
I do not demand that you make me happy; my happiness does not lie in you. If you were to leave me, I will not feel sorry for myself; I enjoy your company immensely, but I do not cling. Anthony de Mello
I am love, and as long as I seek it from you, I can't know that. Byron Katie
Happiness comes from you. No one else can make you happy. You make you happy. Beyoncé Knowles
May you live as long as you wish and love as long as you live. Robert A. Heinlein
Fools love and expect. The wise just love. For them, it's all internal. Maxime Lagacé
See also: humility quotes
See also: 25 Tips to Live a Happy Life in a Relationship (inspiringtips.com)
Part 4. Conclusion
We fall in love because we long to escape from ourselves with someone as beautiful, intelligent, and witty as we are ugly, stupid, and dull. But what if such a perfect being should one day turn around and decide they will love us back? We can only be somewhat shocked – how can they be as wonderful as we had hoped when they have the bad taste to approve of someone like us? Alain de Botton (On Love)
The most difficult thing of all — yet the most essential — is to love life, even when you suffer, because life is all. Leo Tolstoy
Call to action: Read 7 Ways Meditation Can Improve Your Love Life (lifehack.org)
Table Of Contents