Here are 210 of the best letting go quotes. Keep in mind that letting go doesn't mean you're passive. It means you're taking a different direction.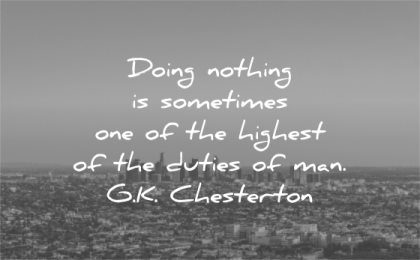 Doing nothing is sometimes one of the highest of the duties of man. G.K. Chesterton
Sometimes letting things go is an act of far greater power than defending or hanging on. Eckhart Tolle (A New Earth)
Seek not that the things which happen should happen as you wish; but wish the things which happen to be as they are, and you will have a tranquil flow of life. Epictetus (Enchiridion)
Intelligence consists in ignoring things that are irrelevant. Nassim Nicholas Taleb
Give up your attachment to having things your way. Iyanla Vanzant
Let reality be reality. Let things flow naturally forward in whatever way they like. Lao Tzu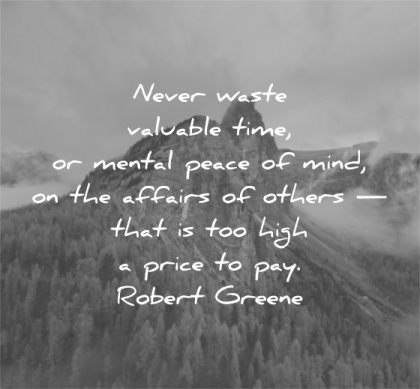 Never waste valuable time, or mental peace of mind, on the affairs of others – that is too high a price to pay. Robert Greene
A rational person can find peace by cultivating indifference to things outside of their control. Naval Ravikant
There are two ways to be. One is at war with reality and the other is at peace. Byron Katie
No drives, no compulsions, no needs, no attractions; when your affairs are under control you are free. Zhuangzi
Let go of becoming but never let go of taking action. Stop expecting and start living. Maxime Lagacé
Anyone who enjoys inner peace is no more broken by failure than he is inflated by success. Matthieu Ricard (Happiest man in the world)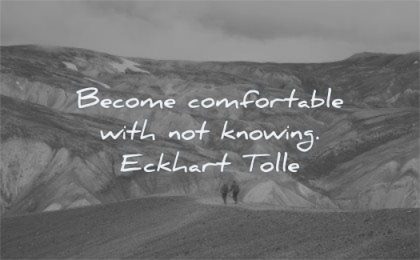 Become comfortable with not knowing. Eckhart Tolle
Choose the non-emotional response to any given situation and see how much easier your life becomes. Naval Ravikant
The way of love is the way of no-expectation. Love exists only when there is a total acceptance and no desire to change anything. Osho
See also: zen quotes, inner peace quotes, stoic quotes
The Best Letting Go Quotes
Go to table of contents

Life moves on and so should we. Spencer Johnson
Take a step back and realize most things are distractions. Maxime Lagacé
One's doing well if age improves even slightly one's capacity to hold on to that vital truism: "This too shall pass". Alain de Botton
Let go of the battle. Breathe quietly and let it be. Let your body relax and your heart soften. Open to whatever you experience without fighting. Jack Kornfield
Just keep in mind: the more we value things outside our control, the less control we have. Epictetus
To let go does not mean to get rid of. To let go means to let be. When we let be with compassion, things come and go on their own. Jack Kornfield
We are always in transition. If you can just relax with that, you'll have no problem. Chögyam Trungpa
Accept what is, let go of what was, have faith in what will be. Sonia Ricotti
You deserve to rest. Even if only for a moment. Put down the weight you're carrying. Let go of the need to keep it all together. Take off your warrior mask. For this moment, now … just breathe. Jason Garner
Let go and just do your own work. Ajahn Chah
Don't seek, don't search, don't ask, don't knock, don't demand – relax. Osho
To resist change, to try to cling to life, is like holding your breath: if you persist you kill yourself. Alan Watts
The willing are led by fate, the reluctant are dragged. Cleanthes
Just as a mighty boulder stirs not with the wind, so the wise are never moved either by praise or blame. The Dhammapada
Sticking with that uncertainty, getting the knack of relaxing in the midst of chaos, learning not to panic – this is the spiritual path. Pema Chödrön
Observe things as they are and don't pay attention to other people. Huang Po
The nearer a man comes to a calm mind, the closer he is to strength. Marcus Aurelius
All the art of living lies in a fine mingling of letting go and holding on. Henry Havelock Ellis
When we give too many f*cks, when we choose to give a f*ck about everything, then we feel as though we are perpetually entitled to feel comfortable and happy at all times – that's when life f*cks us. Mark Manson
Your mind will find dissatisfaction regardless of your circumstances. Dissatisfaction is independent of circumstances; switching circumstances won't solve your dissatisfaction. Instead, learn to release your attachments and accept the universe whatever it brings you. Justin Kan
Enjoy what you can and ignore the rest. Let's not waste any energy fighting things that are outside our control. Paulo Coelho
Without desire there is stillness, and the world settles by itself. Lao Tzu
See also: the quotes we love and use the most
Part 2. Letting Go Quotes That Are…
The Most Famous Letting Go Quotes (Thoreau, Osho, Lao Tzu, etc.)
Go to table of contents

Some of us think holding on makes us strong but sometimes it is letting go. Herman Hesse
We must be willing to let go of the life we have planned, so as to have the life that is waiting for us. E. M. Forster
Care about what other people think and you will always be their prisoner. Lao Tzu
When I let go of what I am, I become what I might be. Lao Tzu
What such a man needs is not courage but nerve control, cool headedness. This he can get only by practice. Theodore Roosevelt
Do not let the behavior of others destroy your inner peace. 14th Dalai Lama
From my own limited experience I have found that the greatest degree of inner tranquility comes from the development of love and compassion. 14th Dalai Lama
Only when you can be extremely pliable and soft can you be extremely hard and strong. Zen proverb
Don't hope that events will turn out the way you want, welcome events in whichever way they happen: this is the path to peace. Epictetus
The more you let yourself go, the less others let you go. Friedrich Nietzsche
A man is rich in proportion to the number of things he can afford to let alone. Henry David Thoreau
There is a huge amount of freedom that comes to you when you take nothing personally. Don Miguel Ruiz (The Four Agreements)
Celebration is my attitude, unconditional to what life brings. Osho
People have a hard time letting go of their suffering. They prefer suffering that is familiar to the unknown. Thich Nhat Hanh
You always own the option of having no opinion. There is never any need to get worked up or to trouble your soul about things you can't control. These things are not asking to be judged by you. Leave them alone. Marcus Aurelius
The first half of life is devoted to forming a healthy ego, the second half is going inward and letting go of it. Carl Jung
It's hard to be clear about who you are when you are carrying around a bunch of baggage from the past. I've learned to let go and move more quickly into the next place. Angelina Jolie
Breathe. Let go. And remind yourself that this very moment is the only one you know you have for sure. Oprah Winfrey
Live with purpose. Don't let people or things around you get you down. Albert Einstein
More famous quotes
See also: The Power of Now: A Guide to Spiritual Enlightenment (Amazon Book)
Short Letting Go Quotes
One-liners, short quotes about letting go, sayings, thoughts and captions for your bio, social status, self-talk, motto, mantra, signs, posters, wallpapers, backgrounds.

Just be, and enjoy being. Eckhart Tolle
Whatever it is, let it go. Unknown
Dare to live by letting go. Tom Althouse
Letting go is not giving up. Mingyur Rinpoche
Let it all go, see what stays. Osho
Learning to live is learning to let go. Sogyal Rinpoche
Learning to let go is learning to accept. Maxime Lagacé
Learning to accept is learning to love. Maxime Lagacé
Peace is what you are capable of being. Wayne Dyer
You have got to let go and let it happen. Alan Watts
The greatest goodness is a peaceful mind. Atiśa Dīpaṃkara Śrījñāna
Some things can only be grasped by letting go. @DailyZen
Feelings are just visitors. Let them come and go. Mooji
Cease striving. Then there will be transformation. Zhuangzi
If you let go of your story, you get to live your life. Neil Strauss
Don't try to force anything. Let life be a deep let-go. Osho
Never ruin a good day by thinking about a bad yesterday. Unknown
Have a mind that is open to everything, and attached to nothing. Tilopa
Whatever comes, don't push it away. When it goes, do not grieve. Mooji
More short quotes
Inspirational Letting Go Quotes
Go to table of contents

If you let go a little you will have a little peace. If you let go a lot you will have a lot of peace. Ajahn Chah
The beautiful journey of today can only begin when we learn to let go of yesterday. Steve Maraboli
Letting go doesn't mean you give up. It means you keep going but you're not attached to the outcome. Maxime Lagacé
We must learn to let things flow just like breath, and life will do the rest. Iyanla Vanzant
If there is no contradiction whatsoever you have abundance of energy. Jiddu Krishnamurti
Slow down, get aligned, listen to the guidance and receive miracles. Gabby Bernstein
Don't worry about the elements around you and what's going on… You gotta get out there and get it. David Goggins
Let your mind wander in the pure and simple. Be one with the infinite. Let all things take their course. Zhuangzi
Forget the years, forget distinctions. Leap into the boundless and make it your home! Zhuangzi
The person who trusts can relax into existence. The person who cannot trust remains tense, remains anxious, afraid. Osho
If you can be patient, just a little patient and allow whatever is happening, soon you will be aware of a new quality in your being. Osho
Enlightenment is not a desire, is not a goal, is not an ambition. It is a dropping of all goals, a dropping of all desires, a dropping of all ambitions. It is just being natural. That's what is meant by flowing. Osho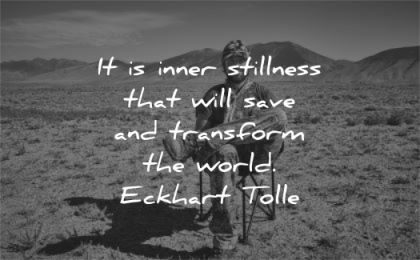 It is inner stillness that will save and transform the world. Eckhart Tolle
Trust simply means that whatever happens we are with it, joyously, not reluctantly, not unwillingly – then you miss the whole point – but dancingly, with a song, with laughter, with love. Whatever happens is for the good. Osho
If it can be improved, improve it. If it must be accepted, accept it. Embracing the inevitable frees you up to tackle what is within your control. The Stoic Emperor (@thestoicemperor)
Slow down, calm down, don't worry, don't hurry, trust the process. Unknown
Letting go is never easy. There is not short-cut or trick to it. You must be committed enough to your future to let go of your past. It's not easy and it's likely to hurt, but it is for the best. Steve Maraboli
Flow with whatever may happen, and let your mind be free: Stay centered by accepting whatever you are doing. This is the ultimate. Zhuangzi
Nothing in the universe can stop you from letting go and starting over. Guy Finley
The day I understood everything, was the day I stopped trying to figure everything out. The day I knew peace was the day I let everything go. C. JoyBell C.
See also: positive quotes, strength quotes
Funny And Surprising Letting Go Quotes
Go to table of contents

By letting go of the banana, the monkey becomes a monk. Swami Sarvapriyananda
Leave your front and back door open. Allow your thoughts to come and go. Just don't serve them tea. Shunryu Suzuki
The best skill at cards is knowing when to discard. Baltasar Gracián
So much advantage in life comes from being willing to look like an idiot over the short term. Shane Parrish
More funny quotes
Deep Letting Go Quotes
Go to table of contents

If you reject unfounded blame, you must also reject unjustified praise. Nassim Nicholas Taleb
And you know, there's less charm in life when you think about death – but it's more peaceful. Leo Tolstoy (Anna Karenina)
Our difficulty is to let go, either the past or the future, because we are frightened. Jiddu Krishnamurti
If someone's insults' bother you; it is evidence that you respect him. Nassim Nicholas Taleb
The weak need others to know their worth. The strong already know their worth and show it. The wise just do their best and don't care about the rest. Maxime Lagacé
If it isn't good, let it die. If it doesn't die, make it good. Ajahn Chah
Freedom is just letting go of all the things I want everyone to notice about me. Chrissy Stockton
For a moment, let go of all trying to understand. Let go of all understanding. Here it is. Mooji
Part 1. Amor fati (Latin: "a love of fate") is a mindset that you take on for making the best out of anything that happens: Treating each and every moment – no matter how challenging – as something to be embraced, not avoided. To not only be okay with it, but love it and be better for it. So that like oxygen to a fire, obstacles and adversity become fuel for your potential. Ryan Holiday
Part 2. That one wants nothing to be different, not forward, not backwards, not in all eternity. Not merely bear what is necessary, still less conceal it….but love it. Friedrich Nietzsche
Part 3. A blazing fire makes flame and brightness out of everything that is thrown into it. Marcus Aurelius
You're only making a mess by trying to put things straight. You're trying to straighten out a wiggly world and no wonder you're in trouble. Alan Watts
Every beginning has an end and every end is a new beginning. Santosh Kalwar
Nothing can trouble you but your own imagination. Nisargadatta Maharaj
Unconsciousness, unawareness, is the cause of attachment. Osho
Trust is the fragrance of a silent, peaceful being. Trust is the fragrance of nothingness. Osho
Everything you have and will ever have, you will one day lose. Your health, your family, your life. No matter how much you kick and scream and fight. Prepare yourself for that moment, accept it, and be at peace. Justin Kan
Impermanence of everything is a universal constant. No matter what kind of legacy, family, foundation, or business you've created, one day it will disappear and no one will remember anything of your life. Justin Kan
More deep quotes, silence quotes
See also: The Untethered Soul: The Journey Beyond Yourself (Amazon Book)
Wise Letting Go Quotes (Words Of Wisdom)
Go to table of contents

Whatever the present moment contains, accept it as if you had chosen it. Eckhart Tolle
One need not go anywhere to be blissful. One can sit silently, be alone, and be blissful. Osho
Like a sandcastle, all is temporary. Build it, tend it, enjoy it, and when the time comes let it go. Jack Cornfield
Care too little and you'll eventually feel useless. Care too much and you'll live in misery. Find out what's worth suffering for. Maxime Lagacé
Life will give you whatever experience is most helpful for the evolution of your consciousness. Eckhart Tolle
A flower falls, even though we love it; and a weed grows, even though we do not love it. Dogen
The world is ruled by letting things take their course. Lao Tzu
But you yourself will not wish to be a general or senator or consul, but a free man: and there is only one way to this, to despise (care not for) the things which are not in our power. Epictetus (Enchiridion)
Not coveting a single thing is the greatest gift you can give to the universe. Kodo Sawaki Roshi
I don't let go of my thoughts, I meet them with understanding, then they let go of me. Byron Katie
Let life live you for a while instead of trying to make yourself live life. Alan Watts
Your heart's strength is measured by how hard it holds on. Your self-worth and faith is measured by finally letting go. However, your peace is measured by how long you don't look back. Shannon L. Alder
Everything changes. There is nothing to stick to. That is the Buddha's most important teaching. Shunryū Suzuki
In the end the treasure of life is missed by those who hold on, and gained by those who let go. Taoist proverb
Know that everything is in perfect order whether you understand it or not. Valery Satterwhite
But when you let things be as they are, you will be a much happier, more balanced, compassionate person. Pema Chödrön
If we learn to open our hearts, anyone, including the people who drive us crazy, can be our teacher. Pema Chödrön
Knowledge is learning something every day. Wisdom is letting go of something every day. Zen proverb
The mind is the ruler of the soul. It should remain unstirred by agitations of the flesh – gentle and violent ones alike. Not mingling with them, but fencing itself off and keeping those feelings in their place. When they make their way into your thoughts, through the sympathetic link between mind and body, don't try to resist the sensation. The sensation is natural. But don't let the mind start in with judgments, calling it "good" or "bad". Marcus Aurelius
When hungry, eat your rice; when tired close your eyes. Fools may laugh at me, but wise men will know what I mean. Linji Yixuan
Learning isn't acquiring knowledge so much as it is trimming information that has already been acquired. Criss Jami
To enter the Buddha Way is to stop discriminating between good and evil and to cast aside the mind that says this is good and that is bad. Dogen
Other people are excited, as though they were a parade. I alone don't care, I alone am expressionless like an infant before it can smile. Taoist proverb
No thought, no reflection, no analysis, no cultivation, no intention; let it settle itself. Tilopa
In silence there is eloquence. Stop weaving and see how the pattern improves. Rumi
Everything happens for you, not to you. Everything happens at exactly the right moment, neither too soon nor too late. You don't have to like it… it's just easier if you do. Byron Katie
To me, meditation is a living relationship with the total existence that surrounds you. If you can be in love with any situation, then you are in meditation. Osho
Instead of becoming the world's expert on Buddhism, just let go, let go, let go. Ajahn Sumedho
No desires, no goal, no seeking, no thoughts, neither obtaining, nor rejecting, nor grasping, nor letting go, being free. Taisen Deshimaru
More wisdom quotes
See also: 7 Ways to Let Go (psychcentral.com) or The Voice of Knowledge: A Practical Guide to Inner Peace (Amazon Book by Don Miguel Ruiz)
Part 3. Letting Go Quotes About…
Letting Go Quotes About Life
Stop being a control freak and just let thing's play out. Unknown
You live and let live, eventually that becomes enough. Jodi Picoult (Change Of Heart)
If you chase happiness, it means you feel unhappy. If you chase money, it means you feel poor. If you chase life, it means you're not present. Maxime Lagacé
The only thing that makes life possible is permanent, intolerable uncertainty: not knowing what comes next. Ursula K. Le Guin (The Left Hand of Darkness)
When you realize that you live in this moment now, and no other, you must relax and taste to the full, whether it be pleasure or pain. Alan Watts
It could be argued that those who sit quietly and do nothing are making one of the best possible contributions to a world in turmoil. Alan Watts
The only way to make sense out of change is to plunge into it, move with it, and join the dance. Alan Watts
You are free to abandon yourself to actual life. Alan Watts
Those who say "life is hard" spend their days fighting against its current. Pat Stedman
In letting go, letting be, there is peace, silence and clarity that arise from complete abandonment. Let life be. Mooji
Let there be a time in the day when you shut down the mind, do nothing and just relax. As muscles grow when rested after weight lifting, so will your mind become invigorated if you give it rest after intense mental activity. Don't leave it switched on 24/7. The Ancient Sage (@theancientsage)
Live in observer mode. Observe, be meditative. Don't waste energy in small talk and unnecessary busyness. Lay back, relax, observe, appreciate. Just be. Don't be in a hurry to take sides. Don't impose anything. Be a detached, amused observer of your life. Let yourself flow. The Ancient Sage
Learn to watch your drama unfold while at the same time knowing you are more than your drama. Ram Dass
The faster and busier things get, the more we need to build thinking time into our schedule. And the noisier things get, the more we need to build quiet reflection spaces in which we can truly focus. Greg McKeown
Forget about life, forget about worrying about right and wrong. Plunge into the unknown and the endless and find your place there. Zhuangzi
Although we have been made to believe that if we let go we will end up with nothing, life reveals just the opposite: that letting go is the real path to freedom. Sogyal Rinpoche
You don't always have to be doing something. You can just be, and that's plenty. Alice Walker
Just let go. Let go of how you thought your life should be, and embrace the life that is trying to work its way into your consciousness. Caroline Myss
Accept what life offers you and try to drink from every cup. All wines should be tasted; some should only be sipped, but with others, drink the whole bottle. Paulo Coelho
See also: gratitude quotes, simplicity quotes
Letting Go Quotes About Happiness, Strength, Inner Peace
The point is that the happiness we seek is already here and it will be found through relaxation and letting go rather than through struggle. Pema Chödrön
Inner peace begins the moment you choose not to allow another person or event to control your emotions. Pema Chödrön
Feeling happy, confident and peaceful are all inside jobs. That's why we don't know about truly happy people: they don't need to show it. Maxime Lagacé
Peace is letting it be. Letting life flow, letting emotions flow through you. Kamal Ravikant
He is happy, whose circumstances suit his temper; but he is more excellent, who can suit his temper to any circumstances. David Hume
Neither failure nor success has the power to change your inner state of being. Eckhart Tolle
When you go through life with preferences but don't let your happiness depend on any one of them, then you're awake. Anthony de Mello
It takes a lot more courage to let something go than it does to hang on to it, trying to make it better. Iyanla Vanzant
Weakness is when external events control your internal reality. Strength is when your internal reality controls external events. Peace is when your internal reality is neither defined by external events nor compelled to control them. Neil Strauss
Is there a difference between happiness and inner peace? Yes. Happiness depends on conditions being perceived as positive; inner peace does not. Eckhart Tolle
Acceptance looks like a passive state, but in reality it brings something entirely new into this world. That peace, a subtle energy vibration, is consciousness. Eckhart Tolle
Any excessive pursuit of a goal brings you face to face with the paradoxes of grasping. The harder you chase 'happiness', the less likely you are to find it. Alan Watts
Don't expect, and there will be no frustration. Frustration is just a shadow which follows expectation. Osho
If you understood your being, you remain in tune with yourself. Nobody can disturb your inner harmony. If somebody loves, good; if somebody hates, good. Both remain somewhere outside you. This is what we call mastery. This is what we call crystallisation – become free of impressions, influences. Osho
If you really want peace on earth, create peace in your heart, in your being. That is the right place to begin with and then spread. Osho
Peace is in the emptiness. Emptiness is in the fast of the mind. Lao Tzu
There is one thing we can actually control – the mind-set with which we respond to the events around us. Robert Greene
Drink your tea slowly and reverently, as if it is the axis on which the world earth revolves – slowly, evenly, without rushing toward the future. Thich Nhat Hanh
There's nothing to achieve. There's only letting go. As we let go, more and more, of ego identifications, desires, and support systems, bliss will arise. Ayya Khema
Conditions are always changing, and real peace lies in the ability to adapt to this changes. Mingyur Rinpoche
See also: courage quotes
Letting Quotes About Relationships, Forgiveness, Love
If you love somebody, let them go, for if they return, they were always yours. If they don't, they never were. Kahlil Gibran
If you want inspiring friends, learn to be an inspiring friend yourself. If you want great relationships, learn to do what great relationships require first. Maxime Lagacé
The most difficult aspect of moving on is accepting that the other person already did. Faraaz Kazi
If you want to forget something or someone, never hate it, or never hate him/her. Everything and everyone that you hate is engraved upon your heart; if you want to let go of something, if you want to forget, you cannot hate. C. JoyBell C.
Perhaps maturity is letting go of the addiction to being understood, being accepted and getting what we want. Neil Strauss
We would do ourselves a tremendous favor by letting go of the people who poison our spirit. Steve Maraboli
I am now quite cured of seeking pleasure in society, be it country or town. A sensible man ought to find sufficient company in himself. Emily Brontë
Sometimes the hardest thing to do is simply to learn how to trust and let go a little, releasing the old so that something new can come in or take place. Lama Surya Das
Sometimes it takes a heartbreak to shake us awake and help us see we are worth so much more than we're settling for. Mandy Hale
If you truly want to be respected by people you love, you must prove to them that you can survive without them. Michael Bassey Johnson
Often, the best response is no response. Learn to ignore; you will be surprised how many of your problems suddenly disappear. The Ancient Sage
There are two ways to live a life either forget everything or, remember nothing. Santosh Kalwar
Letting go doesn't mean that you don't care about someone anymore. It's just realizing that the only person you really have control over is yourself. Deborah Reber
Forgiveness means letting go of the hope for a better past. Lama Surya Das
Forgiveness is an act of letting go. To forgive is to begin to rid yourself of attachment to that which you cannot change. @DailyZen
Most things are best understood by letting go and observing from a distance. @DailyZen
There was nothing left to say. Jodi Picoult (The Pact: A Love Story)
Letting go means to come to the realization that some people are a part of your history, but not a part of your destiny. Steve Maraboli
The truth is, unless you let go, unless you forgive yourself, unless you forgive the situation, unless you realize that the situation is over, you cannot move forward. Steve Maraboli
Inner peace can be reached only when we practice forgiveness. Forgiveness is letting go of the past, and is therefore the means for correcting our misperceptions. Gerald Jampolsky
Never love something so much that you can't let go of it. Ginni Rometty
Sometimes the hardest part isn't letting go but rather learning to start over. Nicole Sobon
See also: forgiveness quotes
See also: 5 Ways to Let Go of a Friendship (psychcentral.com) or How To Get Over Rejection (YouTube video by The School of Life)
Letting Go Quotes About Anger, Fear, Anxiety
Pain will leave you when you let go. Jeremy Aldana
Do not envy others for the gifts they receive, or you will have no peace of mind by day or by night. Those who have destroyed the roots of jealousy have peace of mind always. The Dhammapada
Letting go gives us freedom, and freedom is the only condition for happiness. If, in our heart, we still cling to anything – anger, anxiety, or possessions – we cannot be free. Thich Nhat Hanh
Anger is overrated since you think it will solve your problem. Forgiveness is underrated since you think it will make you weak. Maxime Lagacé
When we look outward, we are easily swayed by the winds of the world. When we face inward, we can find our center and rest in stillness. Haemin Sunim
Let it be whatever it will be. Give up trying to manipulate. This is freedom. Mooji
Throw everything away, forget about it all! You are learning too much, remembering too much, trying too hard… relax a little bit, give life a chance to flow its own way, unassisted by your mind and effort. Stop directing the river's flow. Mooji
Master your emotions, or they will serve other masters. The Stoic Emperor
Anxiety contaminates the present with the pains of all imaginable futures. We cannot experience the fullness of the moment if we are forever suffering from hypothetical hardships. The Stoic Emperor
Hot emotions overpower reason and derail long term strategy. If you are highly reactive you will be continually lured into unwinnable games. Learn to pause just long enough for your senses to catch up with your circumstances. Give your best self time to win the inner argument. The Stoic Emperor
When you let go of the need for respectability and no longer care about your social image, you unchain yourself from the bonds of mediocrity. If you care about what others think you are not free to be yourself. You live a fake life which no amount of outward success can justify. The Ancient Sage
Your fear of looking stupid is making you look stupid. What other people think of you is none of your business. Thibaut
Learn to control yourself, to restrain your natural tendency to take sides and join the fight. Robert Greene
Letting go doesn't mean ignoring a situation. Letting go means accepting what is, without fear, resistance, or a struggle for control. Iyanla Vanzant
Letting go helps us to to live in a more peaceful state of mind and helps restore our balance. It allows others to be responsible for themselves and for us to take our hands off situations that do not belong to us. This frees us from unnecessary stress. Melody Beattie
To let go is to release the images and emotions, the grudges and fears, the clingings and disappointments of the past that bind our spirit. Jack Kornfield
Life appears to me too short to be spent in nursing animosity or registering wrongs. Charlotte Brontë
Grudges are for those who insist that they are owed something; forgiveness, however, is for those who are substantial enough to move on. Criss Jami
See also: fear quotes
See also: 21 Things To Do When You Find It Hard To Let Go (lifehack.org)
Letting Go Quotes About Sadness
In the process of letting go, you will lose many things from the past, but you will find yourself. Deepak Chopra
If we let the storms pass and choose to reflect, we come out better than ever. Tim Ferriss
You deal with your sadness badly when you try to escape it. You deal with it well when you let yourself cry. You deal with it wisely when you use it as inspiration. Maxime Lagacé
A bridge can still be built, while the bitter waters are flowing beneath. Anthony Liccione
All that sadness. All that anger. It is the smoke that gets into your eyes. If you do not blow it away, how can you hope to see? Anthony Horowitz
Do not label your feelings good or bad, right or wrong. Feel what you feel and allow it to pass. Iyanla Vanzant
If you trust yourself enough to know you can feel bad and recover, you will do just that. Iyanla Vanzant
Be willing that any feeling can visit your house. Mooji
No matter how much suffering you went through, you never wanted to let go of those memories. Haruki Murakami
Accept yourself, love yourself, and keep moving forward. If you want to fly, you have to give up what weighs you down. Roy T. Bennett
To be wronged is nothing, unless you continue to remember it. Confucius
A bitter spirit will keep you from being a better person. Woodrow Kroll
You will find that it is necessary to let things go; simply for the reason that they are heavy. So let them go, let go of them. I tie no weights to my ankles. C. JoyBell C.
See also: sad quotes, humility quotes, patience quotes
Part 4. Conclusion
Holding on is believing that there's only a past; letting go is knowing that there's a future. Daphne Rose Kingma
Call to action: Read How to Let Go of Things from the Past (healthline.com)
Table Of Contents
Download this free high quality printable