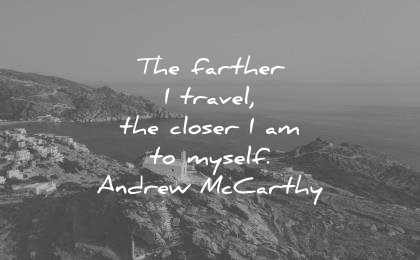 The farther I travel, the closer I am to myself. Andrew McCarthy Click to tweet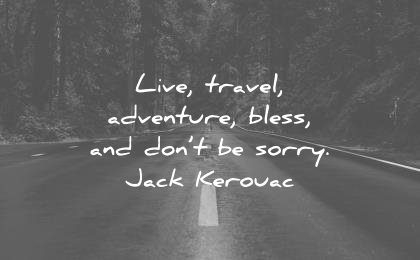 Live, travel, adventure, bless, and don't be sorry. Jack Kerouac Click to tweet
Getting lost is sometimes the best way to find yourself. Maxime Lagacé Click to tweet
Not all those who wander are lost. J.R.R. Tolkien Click to tweet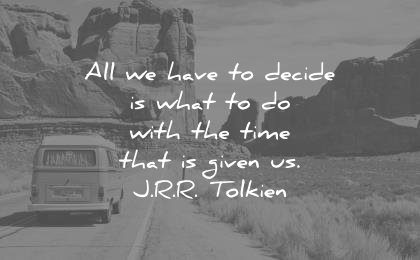 All we have to decide is what to do with the time that is given us. J.R.R. Tolkien Click to tweet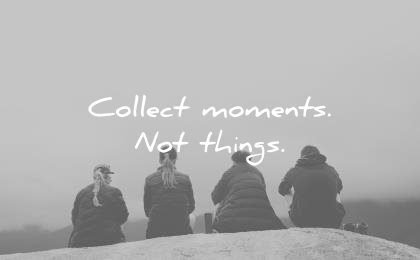 Collect moments. Not things. Unknown Click to tweet
I haven't been everywhere but it's on my list. Susan Sontag Click to tweet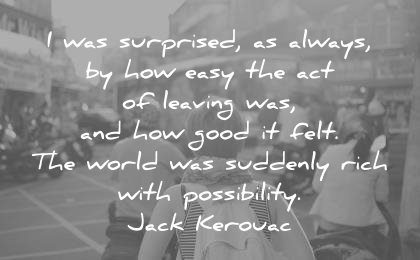 I was surprised, as always, by how easy the act of leaving was, and how good it felt. The world was suddenly rich with possibility. Jack Kerouac Click to tweet
Only those who risk going too far can possibly find out how far one can go. T.S. Eliot Click to tweet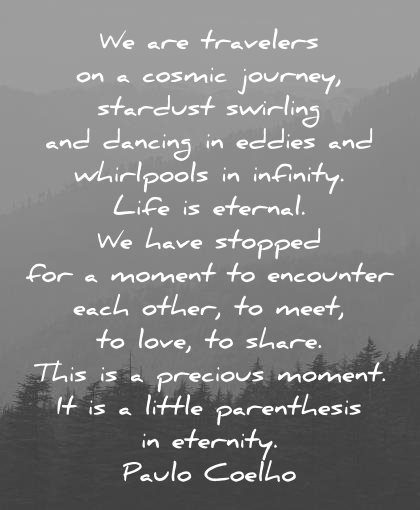 We are travelers on a cosmic journey, stardust swirling and dancing in eddies and whirlpools in infinity. Life is eternal. We have stopped for a moment to encounter each other, to meet, to love, to share. This is a precious moment. It is a little parenthesis in eternity. Paulo Coelho Click to tweet
See also: education quotes, positive quotes, freedom quotes
The Best Travel Quotes Ever
I love to travel, but hate to arrive. Albert Einstein Click to tweet
To awaken quite alone in a strange town is one of the pleasantest sensations in the world. Freya Stark
Not I, nor anyone else can travel that road for you. You must travel it by yourself. Walt Whitman
I would rather own little and see the world, than own the world and see little of it. Alexander Sattler Click to tweet
What is more melancholy and more profound than to see a thousand objects for the first and the last time? To travel is to be born and to die at every instant. Victor Hugo
Travel is fatal to prejudice, bigotry, and narrow mindedness, and many of our people need it sorely on these accounts. Mark Twain
People say that what we are all seeking is a meaning for life. I don't think this is what we're really seeking. I think what we're seeking is an experience of being alive. Joseph Campbell
A good traveler has no fixed plans and is not intent upon arriving. Lao Tzu
Travel and change of place impart new vigor to the mind. Seneca
Nothing behind me, everything ahead of me, as is ever so on the road. Jack Kerouac Click to tweet
Vagabonding is about time – our only real commodity – and how we choose to use it. Rolf Potts Click to tweet
The slow nuanced experience of a single country is always better than the hurried, superficial experience of forty countries. Rolf Potts (Vagabonding: An Uncommon Guide to the Art of Long-Term World)
He who does not travel does not know the value of men. Moorish proverb
A tourist sees what he came to see; a traveler sees what he sees. Thibaut
It is fatal to know too much at the outset: boredom comes as quickly to the traveler who knows his route as to the novelist who is overcertain of his plot. Paul Theroux
Traveling hopefully into the unknown with a little information: dead reckoning is the way most people live their lives, and the phrase itself seems to sum up human existenec. Paul Theroux
Wherever my travels may lead, paradise is where I am. Voltaire Click to tweet
Traveling – it leaves you speechless, then turns you into a storyteller. Ibn Battuta Click to tweet
Traveler, there is no path, paths are made by walking. Antonio Machado Click to tweet
The best dreams happen when you're awake. Cherie Gilderbloom
If you really want to learn about a country, work there. Charles Kuralt
Your true traveler finds boredom rather agreeable than painful. It is the symbol of his liberty – his excessive freedom. He accepts his boredom, when it comes, not merely philosophically, but almost with pleasure. Aldous Huxley
Travel, which is like a greater and graver science, brings us back to ourselves. Albert Camus
Two roads diverged in a wood, and I – I took the one less traveled by, and that has made all the difference. Robert Frost
One the the great misfortunes of modern life is the want of any sudden surprise, and the absence of all adventures. Everything is so well arranged. Theophile Gautier
Man cannot discover new oceans unless he has the courage to lose sight of the shore. Andre Gide Click to tweet
The use of traveling is to regulate imagination by reality, and instead of thinking how things may be, to see them as they really are. Samuel Johnson
Often I feel I go to some distant region of the world to be reminded of who I really am… Michael Crichton
The whole object of travel is not to set foot on foreign land; it is at last to set foot on one's own country as a foreign land. Gilbert K. Chesterton
Traveling – it gives you home in thousand strange places, then leaves you a stranger in your own land. Ibn Battuta
Travel… the best way to be lost and found at the same time. Brenna Smith
Part 2. Travel Quotes That Are…
The Most Famous (Jack Kerouac, Marcel Proust, Helen Keller, etc.)
Experience, travel – these are an education in themselves. Euripides Click to tweet
Be brave, take risks. Nothing can substitute experience. Paulo Coelho
Once a year go somewhere you have never been before. Dalai Lama
Life is either a daring adventure or nothing at all. Helen Keller
Though we travel the world over to find the beautiful, we must carry it with us or we find it not. Ralph Waldo Emerson
Paris is always a good idea. Audrey Hepburn
He who would travel happily must travel light. Antoine de Saint-Exupery
Unexpected travel suggestions are dancing lessons from God. Kurt Vonnegut
It is better to travel well than to arrive. Buddha
A journey of a thousand miles starts with a single step. Lao Tzu
The biggest adventure you can ever take is to live the life of your dreams. Oprah Winfrey
To travel is worth any cost or sacrifice. Elizabeth Gilbert (Eat, Pray, Love)
If time travel is possible, where are the tourists from the future? Stephen Hawking
If you don't know where you're going, any road will take you there. George Harrison (The Beatles, Any Road)
Yes, there are two paths you can go by, but in the long run, there's still time to change the road you're on. Led Zeppelin (Stairway to Heaven)
There was nowhere to go but everywhere, so just keep on rolling under the stars. Jack Kerouac (On the Road)
Our battered suitcases were piled on the sidewalk again; we had longer ways to go. But no matter, the road is life. Jack Kerouac
The world is a book and he who don't travel only read one page. St. Augustine Click to tweet
I never knew of a morning in Africa, when I woke up and was not happy. Ernest Hemingway
Twenty years from now you will be more disappointed by the things that you didn't do than by the ones you did do. So throw off the bowlines. Sail away from the safe harbor. Catch the trade winds in your sails. Explore. Dream. Discover. Mark Twain
I could have gone on flying through space forever. Yuri Gagarin (First human to journey into outer space)
The sea will grant each man new hope, and sleep will bring dreams of home. Christopher Columbus
I did not write half of what I saw, for I knew I would not be believed. Marco Polo
The real voyage of discovery consists not in seeking new landscapes but in having new eyes. Marcel Proust
Better to see something once than to hear about it a thousand times. Asian proverb
Don't tell me how educated you are, tell me how much you traveled. Mohammed
More famous quotes
See also: 7 Science-Backed Reasons Traveling Helps You Succeed in Life
Short Travel Quotes
One liners, thoughts and captions for your bio, social status, self-talk, motto, mantra, signs, posters, wallpapers, backgrounds, tattoos, SMS, Facebook, WhatsApp, Snapchat, Tumblr, Twitter, Pinterest, Instagram, etc.
To travel is to live. Hans Christian Andersen Click to tweet
All of life is a foreign country. Jack Kerouac
Risk is the salt and sugar of life. Freya Stark
Travel far enough, you meet yourself. David Mitchell
We need the possibility of escape as surely as we need hope. Rolf Potts
Travel teaches toleration. Benjamin Disraeli
The journey is the destination. Dan Eldon
Who lives sees, but who travels sees more. Ibn Battuta
To travel is to take a journey into yourself. Danny Kaye
Everywhere you travel to, be fully there. Lailah Gifty Akita
Everybody has a unique path to travel. Lailah Gifty Akita
The road never ends… only our vision does. Amit Reddy
No matter where you go, there you are. Buckaroo Banzi
What is life, without a little risk? Sirius Black (Harry Potter)
The greatest adventure is what lies ahead. Unknown
Travel is the only thing you buy that makes you richer. Unknown (Submitted by the Wisdom Quotes Community)
It feels good to be lost in the right direction. Unknown
If not now, when? Unknown
Life is short and the world is wide. Unknown
Go, fly, roam, travel, voyage, explore, journey, discover, adventure. Unknown
Work, travel, save, repeat. Unknown
Just go. Go see all the beauty in the world. Unknown
Don't listen to what they say, go see. Chinese proverb Click to tweet
Adventure is worthwhile. Aristotle
Oh, the places you'll go. Dr. Seuss
The journey is my home. Muriel Rukeyser
Make voyages! Attempt them. There's nothing else. Tennessee Williams
More short quotes

You may also like: inspirational quotes motivational quotes happiness quotes love quoteslife quotes
Inspirational Travel Quotes
The goal is to die with memories not dreams. Unknown Click to tweet
Wandering re-establishes the original harmony which once existed between man and the universe. Anatole France
When you want something, all the universe conspires in helping you to achieve it. Paulo Coelho (The Alchemist)
I see my path, but I don't know where it leads. Not knowing where I'm going is what inspires me to travel it. Rosalia de Castro
Wanting to travel reflects a positive attitude. You want to see, to grow in experience, and presumably to become more whole as a human being. Ed Buryn
Vagabonding is about using the prosperity and possibility of the information age to increase your personal options instead of your personal possessions. Rolf Potts
Part 1. For my part, I travel not to go anywhere, but to go. I travel for travel's sake. The great affair is to move. Robert Louis Stevenson
Part 2. To feel the needs and hitches of our life more nearly; to come down off this feather-bed of civilization, and find the globe granite underfoot and strewn with cutting flints. Robert Louis Stevenson
Do you really want to look back on your life and see how wonderful it could have been had you not been afraid to live it? Caroline Myss
Part 1. A lot of us first aspired to far-ranging travel and exotic adventure early in our teens; these ambitions are, in fact, adolescent in nature, which I find an inspiring idea. Tim Cahill
Part 2. Thus, when we allow ourselves to imagine as we once did, we know, with a sudden jarring clarity, that if we don't go right now, we're never going to do it. And we'll be haunted by our unrealized dreams and know that we have sinned against ourselves gravely. Tim Cahill
See also: 14 Inspiring Movies That Will Get You Pumped to Travel
What I find is that you can do almost anything or go almost anywhere, if you're not in a hurry. Paul Theroux
To move, to breathe, to fly, to float; to gain all while you give; to roam the roads of lands remote; to travel is to live. Hans Christian Andersen
I saw that my life was a vast glowing empty page and I could do anything I wanted. Jack Kerouac
Don't die without embracing the daring adventure your life was meant to be. Steve Pavlina
I travel around the world in a way that tries to open my mind and give me empathy and inspire me to come home and make this world a better place. Rick Steves
And then there is the most dangerous risk of all – the risk of spending your life not doing what you want on the bet you can buy yourself the freedom to do it later. Randy Komisar
Travel is a creative act – not simply loafing and inviting your soul, but feeding on the imagination, accounting for each fresh wonder, memorizing, and moving on… and the best landscapes, apparently dense or featureless, hold surprises if they are studied patiently, in the kind of discomfort one can savor afterward. Paul Theroux
We travel initially, to lose ourselves; and we travel, next, to find ourselves. We travel to open our hearts and eyes and learn more about the world than our newspaper will accommodate. Pico Iyer
Part 1. What gives value to travel is fear. It is the fact that, at a certain moment, when we are so far from our own country we are seized by a vague fear, and an instinctive desire to go back to the protection of old habits. This is the most obvious benefit of travel. Albert Camus
Part 2. At that moment we are feverish but also porous, so that the slightest touch makes us quiver to the depths of our being. Albert Camus
Leaving home is a kind of forgiveness, and when you get among strangers, you're amazed at how decent they seem. Nobody smirks at you or gossips about you, nobody resents your successes or relishes your defeats. You get to start over, a sort of redemption. Garrison Keilor
Part 1. Let's not travel to tick things off lists, or collect half-hearted semi-treasures to be placed in dusty drawers in empty rooms. Victoria Erickson
Part 2. Rather, we'll travel to find grounds and rooftops and tiny hidden parks, where we'll sit and dismiss the passing time, spun in the city's web, 'til we've surrendered, content to be spent and consumed. Victoria Erickson
Life begins at the end of your comfort zone. Neale Donald Walsch Click to tweet
By seeing how small the world is, I realize how capable I am. I can conquer anything. Anywhere. Anyone. Tawny Lara
Many a trip continues long after movement in time and space have ceased. John Steinbeck
Jobs fill your pockets, but adventures fill your soul. Jaime Lyn
See also: strength quotes
Funny And Surprising Travel Quotes
Two great talkers will not travel far together. Spanish proverb Click to tweet
Half the fun of the travel is the esthetic of lostness. Ray Bradbury
I don't know where I am going but I'm on my way. Carl Sagan
Walking is a virtue, tourism is a deadly sin. Bruce Chatwin
To lose a passport was the least of one's worries. To lose a notebook was a catastrophe. Bruce Chatwin
When you see someone putting on his Big Boots, you can be pretty sure that an Adventure is about to happen. Winnie The Pooh
Tourists don't know where they've been, travelers don't know where they're going. Paul Theroux
A tourist is a fellow who drives thousands of miles so he can be photographed standing in front of his car. Emile Ganest
Once the travel bug bites there is no known antidote, and I know that I shall be happily infected until the end of my life. Michael Palin
If you reject the food, ignore the customs, fear the religion and avoid the people, you might better stay home. James Michener
See also: 30 funny travel quotes to make you smile
I never travel without my diary. One should always have something sensational to read on the train. Oscar Wilde
I travel a lot; I hate having my life disrupted my routine. Caskie Stinnett
Jet lag is for amateurs. Dick Clark
To lose a passport was the least of one's worries. To lose a notebook was a catastrophe. Bruce Chatwin
When preparing to travel, lay out all your clothes and all your money. Then take half the clothes and twice the money. Susan Heller
Because in the end, you won't remember the time you spent working in the office or mowing your lawn. Climb that goddamn mountain. Jack Kerouac
If we were meant to stay in one place, we'd have roots instead of feet. Rachel Wolchin
I dislike feeling at home when I am abroad. George Bernard Shaw Click to tweet
Better to sleep in an uncomfortable bed free, than sleep in a comfortable bed unfree. Jack Kerouac
The best tourist is one without a camera. Kamand Kojouri
Let your memory be your travel bag. Aleksandr Solzhenitsyn
See also: funny quotes
Deep And Emotional Travel Quotes
There is no foreign land; it is the traveller only that is foreign. Robert Louis Stevenson Click to tweet
The traveler sees what he sees, the tourist sees what he has come to see. G.K. Chesterton
Travel and tell no one, live a true love story and tell no one, live happily and tell no one, people ruin beautiful things. Kahlil Gibran
As a woman I have no country. As a woman I want no country. As a woman, my country is the whole world. Virginia Woolf
A child on a farm sees a plane fly overhead and dreams of a faraway place. A traveler on the plane sees the farmhouse…and thinks of home. Carl Burns
People say you have to travel to see the world. Sometimes I think that if you just stay in one place and keep your eyes open, you're going to see just about all that you can handle. Paul Auster
This is the charm of a map. It represents the other side of the horizon where everything is possible. Rosita Forbes
When will you begin that long journey into yourself? Rumi
Travel is never a matter of money but of courage. Paulo Coelho
Live your life by a compass, not a clock. Stephen Covey
As you move through this life and this world you change things slightly, you leave marks behind, however small. And in return, life — and travel — leaves marks on you. Most of the time, those marks — on your body or on your heart — are beautiful. Often, though, they hurt. Anthony Bourd
A man of ordinary talent will always be ordinary, whether he travels or not; but a man of superior talent will go to pieces if he remains forever in the same place. Wolfgang Amadeus Mozart
We travel not to escape life, but for life not to escape us. Unknown
Traveling allows you to become so many different versions of yourself. Unknown
Whenever I prepare for a journey I prepare as though for death. Should I never return, all is in order. Katherine Mansfield
People travel to wonder at the height of the mountains, at the huge waves of the seas, at the long course of the rivers, at the vast compass of the ocean, at the circular motion of the stars, and yet they pass by themselves without wondering. St. Augustine
The practice of soulful travel is to discover the overlapping point between history and everyday life; the way to find the essence of every place, every day: in the markets, small chapels, out-of-the-way parks, craft shops. Phil Cousineau
My city and country, so far as I am Antoninus, is Rome; but so far as I am a man, it is the world. Marcus Aurelius
Part 1. Those who visit foreign nations, but associate only with their own countrymen, change their climate, but not their customs. Charles Caleb Colton
Part 2. They see new meridians, but the same men; and with heads as empty as their pockets, return home with traveled bodies, but untraveled minds. Charles Caleb Colton
Whenever you find yourself on the side of majority, it's time to pause and reflect. Mark Twain
Remember at all times that while you are seeing the world, the world will see you. Benjamin Rush
He who is outside his door has the hardest part of his journey behind him. Dutch proverb
The questions is not what you look at, but what you see. Henry David Thoreau
More deep quotes
Wise Travel Quotes (Words of wisdom)
Travel doesn't become adventure until you leave yourself behind. Marty Rubin Click to tweet
To travel hopefully is a better thing than to arrive. Robert Louis Stevenson
Travel's greatest purpose is to replace an empty mind with an open one. William Hazlitt
With age, comes wisdom. With travel, comes understanding. Sandra Lake
Travelling is discovering. Discovering is learning. Learning is living. Maxime Lagacé Click to tweet
It is not down in any map; true places never are. Herman Melville
To the tourist, travel is a means to an end; to the traveler, it's an end in itself. Marty Rubin
No one realizes how beautiful it is to travel until he comes home and rests his head on his old, familiar pillow. Lin Yutang
I always wonder why birds choose to stay in the same place when they can fly anywhere on earth, then I ask myself the same question. Harun Yahya
He who has seen one cathedral ten times has seen something; he who has seen ten cathedrals once has seen but little; and he who has spent half an hour in each of a hundred cathedrals has seen nothing at all. Sinclair Lewis
The value of your travels does not hinge on how many stamps you have in your passport when you get home. Rolf Potts
People travel to faraway places to watch, in fascination, the kind of people they ignore at home. Rolf Potts
Travel can be a kind of monasticism on the move: on the road, we often live more simple, with no more possessions than we can carry, and surrendering ourselves to chance. This is what Camus meant he said that "what gives value to travel is fear" – disruption, in other words, (or emancipation) from circumstance, and all the habits behing which we hide. Pico Iyer
See also: 20 Unforgettable Lessons You Can Learn From Traveling The World
Curiosity about the extraordinary in the ordinary moves the heart of the traveler intent on seeing behind the veil of tourism. Phil Cousineau
Once you have traveled, the voyage never ends… The mind can never break off from the journey. Pat Conroy
It's not where you are today that counts. It's where you are headed. Arthur F. Lenehan
Ownership of most things is overrated. Ownership of worldly experience is not. Dave Levant
A great way to learn about your country is to leave it. Henry Rollins
All travel has its advantages. If the passenger visits better countries, he may learn to improve his own, and if fortune carries him to worse, he may learn to enjoy it. Samuel Johnson
The true fruit of travel is perhaps the feeling of being nearly everywhere at home. Freya Stark Click to tweet
I have found out that there ain't no surer way to find out whether you like people or hate them than to travel with them. Mark Twain
To my mind, the greatest reward and luxury of travel is to be able to experience everyday things as if for the first time, to be in a position in which almost nothing is so familiar it is taken for granted. Bill Bryson
Like all great travellers, I have seen more than I remember, and remember more than I have seen. Benjamin Disraeli
One's destination is never a place, but a new way of seeing things. Henry Miller
To travel is to discover that everyone is wrong about other countries. Aldous Huxley
Travel makes a wise man better, and a fool worse. Thomas Fuller
Wherever you go, go with all your heart! Confucius
It is good to collect things, but it is better to go on walks. Anatole France
More wisdom quotes
Part 3. Travel Quotes About…
Travel Quotes About Life, Learning, Education
Travel doesn't merely broaden the mind. It makes the mind. Bruce Chatwin Click to tweet
Wherever you go becomes a part of you somehow. Anita Desai
Everything you need to know you have learned through your journey. Paulo Coelho
Travel is the best teacher. The only way to an open mind is by taking a plane out into the open world. C. JoyBell C.
If a journey doesn't have something to teach you about yourself then what kind of journey is it? Kira Salak
Life is the great teacher. James Joyce
The simple willingness to improvise is more vital, in the long run, than research. Rolf Potts
At home, you're conditioned to get to the point and get things done, to favor goals and efficiency over moment-by-moment distinction. On the road, you learn to improvise your days, take a second look at everything you see, and not obsess over your schedule. Rolf Potts
Part 1. When you travel you experience, in a very practical way, the act of rebirth. You confront completely new situations, the day passes more slowly, and on most journeys you don't even understand the language the people speak. Paulo Coelho
Part 2. You begin to be more accessible to others, because they may be able to help you in difficult situations. Paulo Coelho
Perhaps travel cannot prevent bigotry, but by demonstrating that all peoples cry, laugh, eat, worry, and die, it can introduce the idea that if we try and understand each other, we may even become friends. Maya Angelou
A mind that is stretched by a new experience can never go back to its old dimensions. Oliver Wendell Holmes
The art of learning fundamental common values is perhaps the greatest gain of travel to those who wish to live at ease among their fellows. Freya Starke
The pleasure in traveling consists of the obstacles, the fatigue, and even the danger. What charm can anyone find in an excursion when he is always sure of reaching his destination, of having horses ready waiting for him, a soft bed, an excellent supper, and all the eases and comfort he can enjoy in his own home! Theophile Gautier
Part 1. Stripped of your ordinary surroundings, your friends, your daily routines, your refrigerator full of food, your closet full of your clothes, you are forced into direct experience. Michael Crichton
Part 2. Such direct experience inevitably makes you aware of who it is that is having the experience. That's not always comfortable, but it is always invigorating. Michael Crichton
I'll look back on this and smile because it was life and I decided to live it. Unknown
People who don't travel cannot have a global view, all they see is what's in front of them. Those people cannot accept new things because all they know is where they live. Martin Yan
Part 1. When people ask me why I still have hope and energy after all these years, I always say: Because I travel. For more than four decades, I've spent at least half my time on the road. Gloria Steinem
Part 2. Taking to the road — by which I mean letting the road take you — changed who I thought I was. The road is messy in the way that real life is messy. It leads us out of denial and into reality, out of theory and into practice, out of caution and into action, out of statistics and into stories — in short, out of our heads and into our hearts.
A man practices the art of adventure when he breaks the chain of routine and renews his life through reading new books, traveling to new places, making new friends, taking up new hobbies and adopting new viewpoints. Wilfred Peterson
As the traveler who has once been from home is wiser than he who has never left his own doorstep, so a knowledge of one other culture should sharpen our ability to scrutinize more steadily, to appreciate more lovingly, our own. Martaret Mead
Travel, in the younger sort, is a part of education; in the elder, a part of the experience. Francis Bacon
The open road is a beckoning, a strangeness, a place where a man can lose himself. William Least Heat Moon
I am not the same having seen the moon shine on the other side of the world. Mary Anne Radmacher
At its best, travel should challenge our preconceptions and most cherished views, cause us to rethink our assumptions, shake us a bit, make us broader minded and more understanding. Arthur Frommer
Travel makes one modest. You see what a tiny place you occupy in the world. Scott Cameron
Life is about moments: don't wait for them, create them. Unknown
Stop worrying about the potholes in the road and enjoy the journey. Babs Hoffman
A man's mind grows narrow in a narrow place. Samuel Johnson
Travel has a way of stretching the mind. Ralph Crawshaw
Quotes About Travelling Alone, "Escaping"
Not until we are lost do we begin to understand ourselves. Henry David Thoreau Click to tweet
Do not follow where the path may lead. Go instead where there is no path and leave a trail. Ralph Waldo Emerson
You will never be able to escape from your heart. So it's better to listen to what it has to say. Paulo Coelho (The Alchemist)
It is precisely the possibility of realizing a dream that makes life interesting. Paulo Coelho
I think one travels more usefully when they travel alone, because they reflect more. Thomas Jefferson
To get away from one's working environment is, in a sense, to get away from one's self; and this is often the chief advantage of travel and change. Charles Horton Cooley
Only by going alone in silence, without baggage, can one truly get into the heart of the wilderness. All other travel is mere dust and hotels and baggage and chatter. John Muir
Vagabonding is an attitude – a friendly interest in people, places, and things that makes a person an explorer in the truest, most vivid sense of the word. Rolf Potts
Before the development of tourism, travel was conceived to be like study, and its fruits were considered to be the adornment of the mind and the formation of the judgement. The traveler was a student of what he sought. Paul Fussell
We do not need to understand other people and their customs fully to interact with them and learn in the process; it is making the effort to interact without knowing all the rules, improsing certain situations, that allows us to grow. Mary Catherine Bateson
Please be a traveler, not a tourist. Try new things, meet new people, and look beyond what's right in front of you. Those are the keys to understanding this amazing world we live in. Andrew Zimmerman
For the born traveller, travelling is a besetting vice. Like other vices, it is imperious, demanding its victim's time, money, energy and the sacrifice of comfort. Aldous Huxley
A person needs at intervals to separate from family and companions and go to new places. One must go without familiars in order to be open to influences, to change. Katharine Butler Hathaway
Fill your life with experiences, not things. Have stories to tell, not stuff to show. Unknown Click to tweet
I love the feeling of being anonymous in a city I've never been before. Unknown
Travel, leave everything, copy the birds. The home is one of civilization's sadnesses. Gustave Flaubert
When you're traveling, you are what you are right there and then. People don't have your past to hold against you. No yesterdays on the road. William Least Heat Moon
All journeys have secret destinations of which the traveler is unaware. Martin Buber
Don't be scared to walk alone. Don't be scared to like it. John Mayer
See also: 12 Things I'd Tell a New Traveler
Quotes About Travel, Love, Romance, Relationships
Quit your job, buy a ticket, fall in love, never return. Unknown Click to tweet
It all goes away. Eventually, everything goes away. Elizabeth Gilbert (Eat, Pray, Love)
A journey is like marriage. The certain way to be wrong is to think you control it. John Steinbeck
And we travel, in essence, to become young fools again—to slow time down and get taken in, and fall in love once more. Rolf Potts
A pain stabbed my heart, as it did every time I saw a girl I loved who was going the opposite direction in this too-big world. Jack Kerouac
Travelling is like flirting with life. It's like saying, 'I would stay and love you, but I have to go; this is my station'. Lisa St. Aubin de Teran
And if travel is like love, it is, in the end, mostly because it's a heightened state of awareness, in which we are mindful, receptive, undimmed by familiarity and ready to be transformed. That is why the best trips, like the best love affairs, never really end. Pico Iyer
You can become blind by seeing each day as a similar one. Each day is a different one, each day brings a miracle of its own. Paulo Coelho
Traveling tends to magnify all human emotions. Peter Hoeg Click to tweet
If you wish to travel far and fast, travel light. Take off all your envies, jealousies, unforgiveness, selfishness, and fears. Glenn Clark
Travel brings power and love back into your life. Rumi
I'm in love with cities I've never been to and people I've never met. John Green
Remember that wherever your heart is, there you will find your treasure. Paulo Coelho
We wander for distraction, but we travel for fulfillment. Hilaire Belloc
Quotes About Travel, Friends, People, Meeting New People
I met a lot of people in Europe. I even encountered myself. James Baldwin Click to tweet
A journey is best measured in friends, rather than miles. Tim Cahill
As soon as I saw you, I knew an adventure was about to happen. Winnie the Pooh
It doesn't matter where you're going, it's who you have beside you. Unknown
Life was meant for good friends and great adventures. Unknown
It is not the destination where you end up but the mishaps and memories you create along the way! Penelope Riley
Travel sparks our imagination, feeds our curiosity, and reminds us how much we all have in common. Deborah Lloyd
The man who goes alone can start today, but he who travels with another must wait till that other is ready. Henry David Thoreau
We travel, some of us forever, to seek other states, other lives, other souls. Anaïs Nin
Good company in a journey makes the way seem shorter. Izaak Walton
See also: 10 Ways Travel can Improve Your Health and Happiness
Quotes About Travel And Road Trips
Roads were made for journeys, not destinations. Confucius Click to tweet
All he needed was a wheel in his hand and four on the road. Jack Kerouac (On The Road)
What's in store for me in the direction I don't take? Jack Kerouac
Here I was at the end of America…no more land…and nowhere was nowhere to go but back. Jack Kerouac
People don't take trips… trips take people. John Steinbeck
The road is there. It will always be there. You just have to decide when to take it. Chris Humphrey
Cover the earth before it covers you. Dagobert D. Runes
If you are brave enough to say goodbye, life will reward you with a new hello. Paulo Coelho
Imagine a new story for your life and start living it. Paulo Coelho
Man's real home is not a house, but the Road, and that life itself is a journey to be walked on foot. Bruce Chatwin
Because the greatest part of a road trip isn't arriving at your destination. It's all the wild stuff that happens along the way. Emma Chase
Road trips are the equivalent of human wings. Ask me to go on one, anywhere. We'll stop in every small town and learn the history and stories, feel the ground and capture the spirit. Then, we'll turn it into our own story that will live inside our history to carry with us always. Because stories are more important than things. Victoria Erickson
See also: 16 of the world's best one-week road trips
Roadtrips aren't measured by mile markers but by moments. Unknown
Faith is not being sure where you're going, but going anyway. Unknown
I don't know where I'm going from here but I promise it wont be boring. David Bowie
You don't have to be rich to travel well. Eugene Fodor
Sometimes the most scenic roads in life are the detours you didn't mean to take. Angela N. Blount
Never go on trips with anyone you do not love. Ernest Hemingway
Why do you go away? So that you can come back. So that you can see the place you came from with new eyes and extra colors. And the people there see you differently, too. Coming back to where you started is not the same as never leaving. Terry Pratchett
It's a big world out there. It would be a shame not to experience it. J. D. Andrews
You must go on adventures to find out where you truly belong. Sue Fitzmaurice
Some beautiful paths can't be discovered without getting lost. Erol Ozan
A man travels the world in search of what he needs and returns home to find it. George A. Moore Click to tweet
Surely, of all the wonders of the world, the horizon is the greatest. Freya Stark
From this hour, freedom! Going where I like, my own master… Walt Whitman
See also: nature quotes
Quotes About Travel, Adventure, Journeys, Wanderlust
This wasn't a strange place; it was a new one. Paulo Coelho Click to tweet
Wanderlust is incurable. Mark Jenkins
Because when you stop and look around, this life is pretty amazing. Dr. Seuss
Rise free from care before the dawn, and seek adventures. Henry David Thoreau
If you think adventure is dangerous, try routine; it is lethal. Paulo Coelho
The very basic core of a man's living spirit is his passion for adventure. Christopher McCandless (Into The Wild)
As is a tale, so is life: not how long it is, but how good it is, is what matters. J.K. Rowling (Very Good Lives)
I travel not to cross countries off a list, but to ignite passionate affairs with destinations. Nyssa P. Chopra
The question of how and when to start vagabonding is not really a question at all. Vagabonding starts now. Rolf Potts
Vagabonding begins the moment you stop making excuses, start saving money, and begin to look at maps with the narcotic tingle of possibility. Rolf Potts
Having an adventure is sometimes just a matter of going out and allowing things to happen in a strange and amazing new environment—not so much a physical challenge as a psychic one. Rolf Potts
Reading old travel books or novels set in faraway places, spinning globes, unfolding maps, playing world music, eating in ethnic restaurants, meeting friends in cafes… all these things are part of never-ending travel practice, not unlike doing scales on a piano, shooting free-throws, or meditating. Phil Cousineau
But the travelers' world is not the ordinary one, for travel itself, even the most commonplace, is an implicit quest for anomaly. Paul Fussell
See also: Best tours around the world: The 30 next great journeys
Blessed are the curious for they shall have adventures. Unknown
To be on a quest is nothing more or less than to become an asker of questions. Sam Keen
Fear is only temporary. Regrets last forever. Unknown
Great things don't come from comfort zones. Roy T. Bennett
It is only in adventure that some people succeed in knowing themselves – in finding themselves. Andre Gide
The true call of the desert, of the mountains, or the sea, is their silence – free of the networks of dead speech. Freya Stark
Adventure isn't hanging on a rope off the side of a mountain. Adventure is an attitude that we must apply to the day to day obstacles in life. John Amatt
If you're twenty-two, physically fit, hungry to learn and be better, I urge you to travel – as far and as widely as possible. Sleep on floors if you have to. Find out how other people live and eat and cook. Learn from them – wherever you go. Anthony Bourdain
Our happiest moments as tourists always seem to come when we stumble upon one thing while in pursuit of something else. Lawrence Block
You will, if you're wise and know the art of travel, let yourself go on the stream of the unknown and accept whatever comes in the spirit in which the gods may offer it. Freya Stark
The air was soft, the stars so fine, the promise of every cobbled alley so great, that I thought I was in a dream. Jack Kerouac (On The Road)
Actually, the best gift you could have given her was a lifetime of adventures. Lewis Carroll (Alice in Wonderland)
If happiness is the goal – and it should be, then adventures should be top priority. Richard Branson Click to tweet
Be fearless in the pursuit of what sets your soul on fire. Jennifer Lee
Without new experiences something inside us sleeps. The sleeper must awaken. Frank Herbert
The impulse to travel is one of the hopeful symptoms of life. Agnes Repplier
The journey not the arrival matters. T.S. Eliot
To wander is to be alive. Roman Payne
Part 4. Conclusion
A ship in harbor is safe, but that is not what ships are built for. John A. Shedd Click to tweet
What is your favorite travel quote? Would you like to add another one here? Please let me know in the comment section below!
Call to action: Read 17 Easy Steps for Planning Your Next Trip
Table Of Contents