Here are 180 of the best motivational quotes I could find. Some will inspire you for success and work. Others for tough times, change and life. Hope you'll find the motivation you need.
Obstacles are the cost of greatness. Robin Sharm
The question isn't who is doing to let me, it's who is going to stop me. Ayn Rand
I wasn't there to compete. I was there to win. Arnold Schwarzenegger
All the power is within you. You can do anything. Swami Vivekananda
The place between your comfort zone and your dream is where life takes place. Helen Keller
Stop whining, start grinding. Eric Thomas
To be a star, you must shine your own light, follow your own path, and don't worry about darkness, for that is when the stars shine brightest. Napoleon Hill
Never bend your head. Hold it high. Look the world straight in the eye. Helen Keller
What you want exists. Don't settle until you get it. Jay Shetty
Work hard, be kind, and amazing things will happen. Conan O'Brien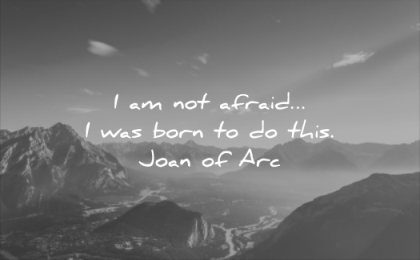 I am not afraid… I was born to do this. Joan of Arc
"No" simply means begin again at one level higher. Peter Diamandis
Those who truly want something will keep trying until they die. Maxime Lagacé
Always ask yourself if what you're doing today is getting you closer to where you want to be tomorrow. Paulo Coelho
Do what you have to do until you can do what you want to do. Oprah Winfrey
See also: hard work quotes, Monday motivation quotes, change quotes
Quotes Video
26 Motivational And Inspirational Quotes (Steve Jobs, Ali, Edison, Bezos, etc.)
The Best Motivational Quotes
Go to table of contents

How bad do you want it? Gary Vaynerchuk
If you fell down yesterday, stand up today. H.G. Wells
Fall seven times, stand up eight. Japanese proverb
The only person you are destined to become is the person you decide to be. Ralph Waldo Emerson
Blood, sweat and respect. First two you give. Last one you earn. Dwayne Johnson (The Rock)
Conformity gets you nowhere. Neil Strauss Click to tweet
Be so good they can't ignore you. Steve Martin
Show the world how much you'll fight for the winners circle. Pat Riley
Everything you can imagine is real. Pablo Picasso
Action is the real measure of intelligence. Napoleon Hill Click to tweet
Everything you've ever wanted is on the other side of fear. George Addair Click to tweet
Learn to be comfortable in the uncomfortable. Learn to be peaceful, not bored. Learn to be inspired, not scared. Maxime Lagacé
Make each day your masterpiece. John Wooden
Develop success from failures. Discouragement and failure are two of the surest stepping stones to success. Dale Carnegie
You're probably on the right track if you feel like a sidewalk worm during a rainstorm. Larry Page (Google)
Do not wait to strike till the iron is hot. Make it hot by striking. William Butler Yeats
I can't believe that God put us on this earth to be ordinary. Lou Holtz
I want the world to be better because I was here. Will Smith Click to tweet
The habit of persistence is the habit of victory. Herbert Kaufman
Don't be afraid to give up the good to go for the great. John D. Rockefeller
What's the tiniest step you can take? Do that first. Maxime Lagacé
Do your duty and a little more and the future will take care of itself. Andrew Carnegie
To seek greatness is the only righteous vengeance. Criss Jami
See also: the best quotes of all time
Part 2. Motivational Quotes That Are…
The Most Famous Motivational Quotes (Walt Disney, da Vinci, Steve Jobs, etc.)
Go to table of contents

It's hard to beat a person who never gives up. Babe Ruth Click to tweet
Every strike brings me closer to the next home run. Babe Ruth
Do the best you can until you know better. Then when you know better, do better. Maya Angelou
If you can dream it, you can do it. Walt Disney
The way to get started is to quit talking and begin doing. Walt Disney
Only those who dare to fail greatly can ever achieve greatly. Robert F. Kennedy
If one advances confidently in the direction of his dreams, and endeavors to live the life which he has imagined, he will meet with a success unexpected in common hours. Henry David Thoreau
Win from within. Usain Bolt
Believe you can and you're halfway there. Theodore Roosevelt
If you're going through hell, keep going. Winston Churchill
Success is walking from failure to failure with no loss of enthusiasm. Winston Churchill
Strength does not come from physical capacity. It comes from an indomitable will. Mahatma Gandhi
Never, never, never give up. Winston Churchill
Diligence is the mother of good luck. Benjamin Franklin
Energy and persistence conquer all things. Benjamin Franklin
Don't stop when you're tired; stop when you're done. Marilyn Monroe
The only place where success comes before work is in the dictionary. Vince Lombardi
The secret of getting ahead is getting started. Mark Twain (More info on the source here)
Unless someone like you cares a whole awful lot, nothing is going to get better. It's not. Dr. Seuss
Whatever the mind of man can conceive and believe, it can achieve. Napoleon Hill
Whether you think you can or you think you can't, you're right. Henry Ford
Your time is limited, so don't waste it living someone else's life. Don't be trapped by dogma. Steve Jobs
It is not the strength of the body that counts, but the strength of the spirit. J.R.R. Tolkien
Concentrate all your thoughts upon the work at hand. The sun's rays do not burn until brought to a focus. Alexander Graham Bell
I have been impressed with the urgency of doing. Knowing is not enough; we must apply. Being willing is not enough; we must do. Leonardo da Vinci
If you can't fly then run, if you can't run then walk, if you can't walk then crawl, but whatever you do you have to keep moving forward. Martin Luther King Jr
I was taught that the way of progress was neither swift nor easy. Marie Curie
More famous quotes
Short Motivational Quotes
One-liners, short motivational quotes, thoughts and captions for your bio, social status, self-talk, motto, mantra, signs, posters, wallpapers, backgrounds.

Action is character. F. Scott Fitzgerald
Leap, and the net will appear. John Burroughs
Wake up determined. Go to bed satisfied. Dwayne Johnson (The Rock)
I like getting to that point where it's hard, and then, pushing harder. Zach Miller
Light tomorrow with today. Elizabeth Barrett Browning
There is always room at the top. Daniel Webster Click to tweet
We must act. Marie Curie
Remember why you started. Erin Janus
Success is my only option, failure's not. Eminem
I prefer to die trying. Maxime Lagacé
Be your own hero. Maxime Lagacé
Show them what crazy dreams can do. Nike
Nothing is given. Everything is earned. LeBron James
If you can't stop thinking about it, don't stop working for it. Unknown
I didn't come this far to only go this far. Unknown
The moment you want to quit is the moment you need to keep pushing. Unknown
One day or day one. It's your choice. Unknown Click to tweet
Don't wait for opportunity. Create it. Unknown
You are your only limit. Unknown
I am not talented. I am obsessed. Conor McGregor
You could be anyone if you put the time. Conor McGregor
Prove them wrong. Unknown
I can and I will. Unknown
Don't call it a dream, call it a plan. Unknown
What you allow is what will continue. Unknown
Don't stop until you're proud. Unknown Click to tweet
Don't look back – you're not going that way. Unknown
You are capable of amazing things. Unknown
Better an oops than a what if. Unknown
Storms make trees take deeper roots. Unknown
Do your thing and don't care if they like it. Tina Fey Click to tweet
Don't wish for it. Work for it. Unknown
Will it be easy? No. Will it be worth it? Absolutely. Unknown
Strive for progress, not perfection. Unknown
Feel the fear. Do it anyway! Jillian Michaels
Don't wait. The time will never be just right. Napoleon Hill
Half-heartedness never won a battle. William McKinley
Good is the enemy of great. Jony Ive (Apple)
Quality is not an act, it is a habit. Aristotle
Aim for the highest. Andrew Carnegie
More short quotes
You may also like: inspirational quotes happiness quotes love quotes life quotes
Funny Motivational Quotes
Go to table of contents

The ultimate inspiration is the deadline. Nolan Bushnell
Expect problems and eat them for breakfast. Alfred A. Montapert
Don't worry about looking good – worry about achieving your goals. Ray Dalio
We're not playing solitaire out here. Bill Parcells (NFL coach) Click to tweet
You can't be that kid standing at the top of the waterslide, overthinking it. You have to go down the chute. Tina Fey
Doing nothing is very hard to do… you never know when you're finished. Leslie Nielsen
There are seven days in a week and someday isn't one of them. Unknown
Only dead fish go with the flow. Unknown
Big shots are only little shots who keep shooting. Christopher Morley
More funny quotes
Motivational Quotes That Are (A Little Bit) Cheesy :p
Go to table of contents

You miss 100% of the shots you don't take. Wayne Gretzky Click to tweet
Dream as if you'll live forever. Live as if you'll die today. James Dean
Perfection is not attainable, but if we chase perfection we can catch excellence. Vince Lombardi
Aim for the moon. If you miss, you may hit a star. W. Clement Stone
A quitter never wins and a winner never quits. Napoleon Hill
Of course motivation is not permanent. But then, neither is bathing; but it is something you should do on a regular basis. Zig Ziglar
Live every day like it's your last. Unknown
Be like a postage stamp – stick to one thing until you get there. Unknown
You can't make a rainbow without a little rain. Unknown
Don't watch the clock; do what it does. Keep going. Sam Levenson
Either you run the day or the day runs you. Jim Rohn
Sweat is the cologne of accomplishment. Heywood Hale Broun
Anti-Motivational Quotes
Go to table of contents

Whenever I feel the need to exercise I lie down until it goes away. Paul Terry Click to tweet
Even if you fall on your face you're still moving forward. Victor Kiam
If your only goal is to become rich, you will never achieve it. John D. Rockefeller
I think everybody should get rich and famous and do everything they ever dreamed of so they can see that it's not the answer. Jim Carrey
It's never too late to go back to bed. Unknown
It is what it is. And it's not good. Unknown
I do marathons, on Netflix. Unknown
Work hard. Complain harder. Unknown
Procrastinate now. Don't put it off. Ellen DeGeneres
Deep And Emotional Motivational Quotes
Go to table of contents

There are four basic human needs; food, sleep, sex and revenge. Banksy Click to tweet
If you are not doing what you love, you are wasting your time. Billy Joel
It is never too late to be what you might have been. George Eliot
Hardships often prepare ordinary people for an extraordinary destiny. C.S. Lewis Click to tweet
Remember that not getting what you want is sometimes a wonderful stroke of luck. Dalai Lama
Too many of us are not living our dreams because we are living our fears. Les Brown
We either make ourselves miserable, or we make ourselves strong. The amount of work is the same. Carlos Castaneda
I have had all of the disadvantages required for success. Larry Ellison (Oracle)
A wise man can always be found alone. A weak man can always be found in crowd. Unknown
What I'm looking for is not out there, it is in me. Helen Keller
To dare is to lose one's footing momentarily. Not to dare is to lose oneself. Søren Kierkegaard
Fear defeats more people than any other one thing in the world. Ralph Waldo Emerson
What are the most powerful words in the universe? The ones you use to talk to yourself. Karen Salmansohn
My mama always used to tell me: 'If you can't find somethin' to live for, you best find somethin' to die for. Tupac
Motivation comes from meaning. Everything comes from meaning. Jay Shetty
If you do not conquer self, you will be conquered by self. Napoleon Hill
You have to be at your strongest when you're feeling at your weakest. Unknown
It doesn't get easier. You get stronger. Unknown
There is no class so pitiably wretched as that which possesses money and nothing else. Andrew Carnegie
A man, as a general rule, owes very little to what he is born with – a man is what he makes of himself. Alexander Graham Bell
Sentiment without action is the ruin of the soul. Edward Abbey
More deep quotes
See also: Become the CEO of Your Own Brain in Six Easy Steps (psychologytoday.com)
Wise Motivational Quotes (Words Of Wisdom)
Go to table of contents

A happy life consists not in the absence, but in the mastery of hardships. Helen Keller Click to tweet
It is not the path which is the difficulty; rather, it is the difficulty which is the path. Søren Kierkegaard
A hero is one who knows how to hang on for one minute longer. Norwegian proverb
Finishing something will give you satisfaction. Finishing something important to you will give you meaning. A meaningful life is a good life. Maxime Lagacé
The most important thing is to continue. Forget about others, forget about the scoreboard, forget about your failures. Just keep pushing. Maxime Lagacé
The way you train reflects the way you fight. People say I'm not going to train too hard, I'm going to do this in training, but when it's time to fight I'm going to step up. There is no step up. You're just going to do what you did every day. Georges St-Pierre
To avoid criticism, say nothing, do nothing, be nothing. Elbert Hubbard
You don't "discover" your place in the world. You carve it out. Thibaut
Winners focus on winning. Losers focus on winners. @Eric Thomas
Winners never quit and quitters never win. Vince Lombardi
Failure will never overtake me if my determination to succeed is strong enough. Og Mandino
What comes easy won't last. What lasts won't come easy. Unknown
You've got to get up every morning with determination if you're going to go to bed with satisfaction. George Lorimer
Go as far as you can see; when you get there, you'll be able to see further. Thomas Carlyle
Don't do what you can do – try what you can't do. William Faulkner Click to tweet
Someone once told me growth and comfort do not coexist. And I think it's a really good thing to remember. Ginni Rometty (IBM)
Embrace bad news to learn where you need the most improvement. Bill Gates
It is always your next move. Napoleon Hill
More wisdom quotes
Part 4. Conclusion
Without ambition, one starts nothing. Without work, one finishes nothing. The prize will not be sent to you. You have to win it. Ralph Waldo Emerson Click to tweet
Call to action: Watch Do What Is Needed – Motivational video (YouTube video)
Download this free high quality printable