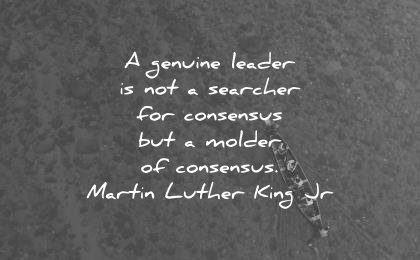 A genuine leader is not a searcher for consensus but a molder of consensus. Martin Luther King Jr Click to tweet
The art of leadership is saying no, not yes. It is very easy to say yes. Tony Blair Click to tweet
Mountaintops inspire leaders but valleys mature them. Winston Churchill Click to tweet
Lead from the back and let others believe they are in front. Nelson Mandela Click to tweet
I alone cannot change the world, but I can cast a stone across the water to create many ripples. Mother Teresa Click to tweet
Share this page today
The ability to learn is the most important quality a leader can have. Sheryl Sandberg Click to tweet
People don't buy what you do, they buy why you do it. Simon Sinek Click to tweet
A boss has the title, a leader has the people. Simon Sinek Click to tweet
Efficiency is doing the thing right. Effectiveness is doing the right thing. Peter F. Drucker Click to tweet
We cannot lead anyone farther than we have been ourselves. John C. Maxwell Click to tweet
One voice can change a room. Barack Obama Click to tweet
You manage things; you lead people. Grace Hopper Click to tweet
Don't tell people how to do things, tell them what to do and let them surprise you with their results. George Patton Click to tweet
No leader sets out to be a leader. People set out to live their lives, expressing themselves fully. When that expression is of value, they become leaders. So the point is not to become a leader. The point is to become yourself, to use yourself completely – all your skills, gifts and energies – in order to make your vision manifest. You must withhold nothing. You must, in sum, become the person you started out to be, and to enjoy the process of becoming. Warren Bennis Click to tweet
Leaders must be close enough to relate to others, but far enough ahead to motivate them. John C. Maxwell Click to tweet
See also: change quotes, wisdom quotes, success quotes
The Best Leadership Quotes
Go to table of contents

Anyone, anywhere, can make a positive difference. Mark Sanborn Click to tweet
Innovation distinguishes between a leader and a follower. Steve Jobs
Do what is right, not what is easy. Unknown
Set and maintain high standards. If you have to be hard on people, do it with love and a genuine wish for them to improve. Praise people when they hit the standard. Sam Altman
A good leader must hate the wrong thing more than they hate the pain of doing the right thing. Angela Jiang
Leadership is not about titles, positions, or flow charts. It is about one life influencing another. John C. Maxwell
Leading people is the most challenging and, therefore, the most gratifying undertaking of all human endeavors. Jocko Willink
In the future, there will be no female leaders. There will just be leaders. Sheryl Sandberg
As we look ahead into the next century, leaders will be those who empower others. Bill Gates Click to tweet
Leadership is the capacity to translate vision into reality. Warren Bennis
A man who wants to lead the orchestra must turn his back on the crowd. Max Lucado Click to tweet
The secret of leadership is simple: Do what you believe in. Paint a picture of the future. Go there. People will follow. Seth Godin
The mediocre teacher tells. The good teacher explains. The superior teacher demonstrates. The great teacher inspires. William Arthur Ward
You have to be burning with an idea, or a problem, or a wrong that you want to right. If you're not passionate enough from the start, you'll never stick it out. Steve Jobs
Whenever you see a successful business, someone once made a courageous decision. Peter F. Drucker
The mark of a great man is one who knows when to set aside the important things in order to accomplish the vital ones. Brandon Sanderson
Be strong enough to stand alone, smart enough to know when you need help, and brave enough to ask for it. Unknown (Submitted by the Wisdom Quotes Community)
Don't waste your energy trying to educate or change opinions; go over, under, through, and opinions will change organically when you're the boss. Or they won't. Who cares? Do your thing, and don't care if they like it. Tina Fey
You don't need a title to be a leader. Mark Sanborn Click to tweet
If your actions create a legacy that inspires others to dream more, learn more, do more and become more, then, you are an excellent leader. Dolly Parton
A leader takes people where they want to go. A great leader takes people where they don't necessarily want to go but ought to be. Rosalynn Carter
I am not a product of my circumstances. I am a product of my decisions. Stephen R. Covey
Becoming a leader is synonymous with becoming yourself. It is precisely that simple and it is also that difficult. Warren Bennis
See also: the quotes I use the most every day
What is Leadership?
Go to table of contents

Leadership is an action, not a position. Donald McGannon
Leadership is the art of giving people a platform for spreading ideas that work. Seth Godin
Management is doing things right. Leadership is doing the right things. Peter F. Drucker Click to tweet
Leadership is about making others better as a result of your presence and making sure that impact lasts in your absence. Sheryl Sandberg (Facebook)
Leadership is like third grade: it means repeating the significant things. Max De Pree
Leadership is unlocking people's potential to become better. Bill Bradley
See also: Why good leaders make you feel safe (Ted Talk YouTube video)
Part 2. Leadership Quotes That Are…
The Most Famous Leadership Quotes (Gandhi, Obama, Einstein, etc.)
Go to table of contents

A leader is a dealer in hope. Napoleon Bonaparte Click to tweet
If I have seen farther than others, it is because I was standing on the shoulder of giants. Isaac Newton
Great spirits have always found violent opposition from mediocrities. The latter cannot understand it when a man does not thoughtlessly submit to hereditary prejudices but honestly and courageously uses his intelligence. Albert Einstein
The only safe ship in a storm is leadership. Faye Wattleton
We need to think of the future and the planet we are going to leave to our children and their children. Kofi Annan
Do not follow where the path may lead. Go instead where there is no path and leave a trail. Ralph Waldo Emerson
Change will not come if we wait for some other person, or if we wait for some other time. We are the ones we've been waiting for. We are the change that we seek. Barack Obama
Someone is sitting in the shade today because someone planted a tree a long time ago. Warren Buffett
Do the difficult things while they are easy and do the great things while they are small. A journey of a thousand miles must begin with a single step. Lao Tzu
Alone we can do so little; together we can do so much. Helen Keller
I've learned that people will forget what you said, people will forget what you did, but people will never forget how you made them feel. Maya Angelou
To handle yourself, use your head; to handle others, use your heart. Eleanor Roosevelt Click to tweet
I have not failed. I've just found 10000 ways that won't work. Thomas A. Edison
The only way to do great work is to love what you do. Steve Jobs
Your work is to discover your work and then with all your heart to give yourself to it. Buddha
A leader is like a shepherd. He stays behind the flock, letting the most nimble go out ahead, whereupon the others follow, not realizing that all along they are being directed from behind. Nelson Mandela
Everyone thinks of changing the world, but no one thinks of changing himself. Leo Tolstoy
A leader is best when people barely know he exists, when his work is done, his aim fulfilled, they will say: We did it ourselves. Lao Tzu
Whatever the mind of man can conceive and believe, it can achieve. Napoleon Hill
We can, we will, and we must come together. Joe Biden
Be willing to be uncomfortable. Be comfortable being uncomfortable. It may get tough, but it's a small price to pay for living a dream. Peter McWilliams
Believe you can and you're halfway there. Theodore Roosevelt
More famous quotes
See also: Buddha quotes
Short Leadership Quotes
One-liners, short leadership quotes, sayings and thoughts for your bio, social status, self-talk, motto, mantra, signs, posters, wallpapers, backgrounds.

The price of greatness is responsibility. Winston Churchill
To lead people, walk behind them. Lao Tzu Click to tweet
We rise by lifting others. Robert Ingersoll
All leaders are readers. Jim Rohn
Hire character. Train skill. Peter Schutz
The greatest deficiency of any CEO is also the most critical of skills: clarity. Kapil Gupta
Act or do not act, but do not hedge. Peter F. Drucker
What gets measured gets improved. Peter F. Drucker
Faith moves mountains, love transforms hearts. John Paul Warren
Faster. Stronger. Smarter. More humble. Less ego. Jocko Willink
Ego clouds and disrupts everything. Jocko Willink
The very essence of leadership is that you have to have a vision. Theodore Hesburgh
Leadership distilled down to 3 words: Make a difference. Robin Sharma
Victims make excuses. Leaders deliver results. Robin Sharma
Today a reader, tomorrow a leader. Margaret Fuller
The cautious seldom err. Confucius Click to tweet
Leadership involves finding a parade and getting in front of it. John Naisbitt
Earn your leadership every day. Michael Jordan
My life didn't please me, so I created my life. Coco Chanel
A winner is a dreamer who never gives up. Nelson Mandela
A king is one who fears nothing. Seneca (See also: fear quotes)
Leaders live by choice, not by accident. Mark Gorman
The test of leadership is, is anything or anyone better because of you? Mark Sanborn
Anyone can hold the helm when the sea is calm. Publilius Syrus
More short quotes

Popular pages on WisdomQuotes:
life quotes love quotes happiness quotes inspirational quotes motivational quotes
Inspirational And Positive Leadership Quotes
Go to table of contents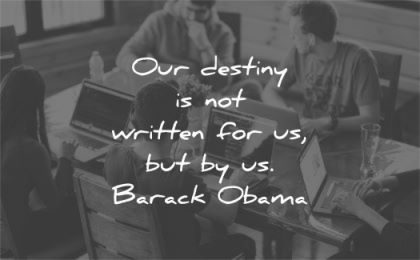 Our destiny is not written for us, but by us. Barack Obama Click to tweet
Inventories can be managed, but people must be led. H. Ross Perot
As you enter positions of trust and power, dream a little before you think. Toni Morrison
Don't be afraid to give up the good to go for the great. John D. Rockefeller
If your objective is to be as good as you can be, then you're going to want criticism. Ray Dalio
Make people feel like the hero of their journey and they will do more. Maxime Lagacé
The test of organization is not genius. It is its capacity to make common people achieve uncommon performance. Peter F. Drucker
Leadership is lifting a person's vision to high sights, the raising of a person's performance to a higher standard, the building of a personality beyond its normal limitations. Peter F. Drucker
Stop researching every aspect of it and reading all about it and debating the pros and cons of it. Start doing it. Jocko Willink
To be more requires a man who is conceited enough to believe that the world really needs him and depends on his getting into power. Peter F. Drucker
A community is like a ship; everyone ought to be prepared to take the helm. Henrik Ibsen
Great leaders are almost always great simplifiers, who can cut through argument, debate, and doubt to offer a solution everybody can understand. Colin Powell
Time is neutral and does not change things. With courage and initiative, leaders change things. Jesse Jackson
Leadership is a mindset in action. So don't wait for the title. Leadership isn't something that anyone can give you – you have to earn it and claim it for yourself. Travis Bradberry
It's not about money or connections – it's the willingness to outwork and outlearn everyone. Mark Cuban (See also: hard work quotes)
You can be a leader in your workplace, your neighborhood, or your family, all without having a title. Travis Bradberry
It is well to respect the leader. Learn from him. Observe him. Study him. But don't worship him. Believe you can surpass. Believe you can go beyond. Those who harbor the second-best attitude are invariably second-best doers. David J. Schwartz
If you want to build a ship, don't drum up the men to gather wood, divide the work, and give orders. Instead, teach them to yearn for the vast and endless sea. Antoine de Saint-Exupéry
The important thing is this: to be able to give up in any given moment all that we are for what we can become. DeSeaux
To the highest leadership among women it is given to hold steadily in one hand the sacred vessels that hold the ancient sanctities of life, and in the other a flaming torch to light the way for oncoming generations. Anna Garlin Spencer
Leadership requires belief in the mission and unyielding perseverance to achieve victory. Jocko Willink
The future belongs to those who prepare for it today. Malcolm X Click to tweet
Leaders are people who believe so passionately that they can seduce other people into sharing their dream. Warren Bennis
Obstacles are things a person sees when he takes his eyes off his goal. E. Joseph Cossman
A year from now you will wish you had started today. Karen Lamb
The task of the leader is to get their people from where they are to where they have not been. Henry Kissinger
It's your unlimited power to create and to love that can make the biggest difference in the quality of your life. Tony Robbins
For me life is continuously being hungry. The meaning of life is not simply to exist, to survive, but to move ahead, to go up, to achieve, to conquer. Arnold Schwarzenegger
Throw yourself into some work you believe in with all your heart, live for it, die for it, and you will find the happiness that you had thought could never be yours. Dale Carnegie
Great masters neither want nor need your worship. Your greatest gift to them and yourself is to emulate their divinity by claiming it as your own. Alan Cohen
Perfection is not attainable, but if we chase perfection we can catch excellence. Vince Lombardi
When everything seems to be going against you, remember that the airplane takes off against the wind, not with it. Henry Ford
We're here for a reason. I believe a bit of the reason is to throw little torches out to lead people through the dark. Whoopi Goldberg
Leaders don't force people to follow – they invite them on a journey. Charles S. Lauer
See also: quotes about strength
Funny And Surprising Leadership Quotes
Go to table of contents

People who enjoy meetings should not be in charge of anything. Thomas Sowell
Being responsible sometimes means pissing people off. Colin Powell Click to tweet
Only one man in a thousand is a leader of men – the other 999 follow women. Groucho Marx
You either run with lions or walk with sheep. Matshona Dhliwayo
People who don't take risks generally make about two big mistakes a year. People who do take risks generally make about two big mistakes a year. Peter F. Drucker
In most cases being a good boss means hiring talented people and then getting out of their way. Tina Fey
South African Archbishop Desmond Tutu walked by a construction site on a temporary sidewalk the width of one person. A white man appeared at the other end, recognized Tutu, and said, 'I don't make way for gorillas.' At which Tutu stepped aside, made a deep sweeping gesture, and said, 'Ah, yes, but I do.' Walter Wink
Lead me, follow me, or get the hell out of my way. George Patton Click to tweet
But the fact that some geniuses were laughed at does not imply that all who are laughed at are geniuses. They laughed at Columbus, they laughed at Fulton, they laughed at the Wright brothers. But they also laughed at Bozo the Clown. Carl Sagan
A man always has two reasons for doing anything: a good reason and the real reason. J.P. Morgan
If you make people think they're thinking, they'll love you. If you really make them think, they'll hate you. Don Marquis
It's hard to lead a cavalry charge if you think you look funny on a horse. Adlai Stevenson
The most effective way to do it, is to do it. Amelia Earhart
Don't be so humble – you are not that great. Golda Meir
More funny quotes
Deep Leadership Quotes
Go to table of contents

Leaders must encourage their organizations to dance to forms of music yet to be heard. Warren Bennis
The manager asks how and when; the leader asks what and why. Warren Bennis Click to tweet
A leader operating in enemy territory should always project positivity and optimism. Naval Ravikant
A tyrant is always stirring up some war or other, in order that the people may require a leader. Plato
In times of change, learners inherit the Earth, while the learned find themselves beautifully equipped to deal with a world that no longer exists. Eric Hoffer
Wisdom is knowing what to do next, skill is knowing how to do it, and virtue is doing it. David Star Jordan
You are judged in this world by how well you bring things to an end. A messy or incomplete conclusion can reverberate for years to come. Robert Greene
You take people as far as they will go, not as far as you would like them to go. Jeanette Rankin
Leaders shouldn't attach moral significance to their ideas: Do that, and you can't compromise. Peter F. Drucker
Being a leader is making the people you love hate you a little more each day. Patrick Ness
To do great things is difficult; but to command great things is more difficult. Friedrich Nietzsche
Leadership should be more participative than directive, more enabling than performing. Mary D. Poole
I am not afraid of an army of lions led by a sheep; I am afraid of an army of sheep led by a lion. Alexander the Great
Ninety percent of leadership is the ability to communicate something people want. Dianne Feinstein
I can't change the direction of the wind, but I can adjust my sails to always reach my destination. Jimmy Dean
Show me the man you honor and I will know what kind of man you are. Thomas John Carlisle
If you are rich and powerful but unhappy, what's the point of being rich and powerful? Thich Nhat Hanh
More deep quotes
See also: The 9 Traits That Define Great Leadership (inc.com)
Wise Leadership Quotes (Words Of Wisdom)
Go to table of contents

The manager accepts the status quo; the leader challenges it. Warren Bennis Click to tweet
Failing organizations are usually over-managed and under-led. Warren Bennis
Good leaders build products. Great leaders build cultures. Good leaders deliver results. Great leaders develop people. Good leaders have vision. Great leaders have values. Good leaders are role models at work. Great leaders are role models in life. Adam Grant
More leaders have been made by accident, circumstance, sheer grit, or will than have been made by all the leadership courses put together. Warren Bennis
There is nothing quite so useless as doing with great efficiency something that should not be done at all. Peter F. Drucker
It is not so much that man is a herd animal, said Freud, but that he is a horde animal led by a chief. Ernest Becker
Pity the leader caught between unloving critics and uncritical lovers. John Gardner
I start with the premise that the function of leadership is to produce more leaders, not more followers. Ralph Nader
Leadership is not just about giving energy… it's unleashing other people's energy. Paul Polman
Great leaders are not defined by the absence of weakness, but rather by the presence of clear strengths. John Zenger
Average leaders raise the bar on themselves; good leaders raise the bar for others; great leaders inspire others to raise their own bar. Orrin Woodward
Leadership is much more an art, a belief, a condition of the heart, than a set of things to do. Max De Pree
Leadership is liberating people to do what is required of them in the most effective and humane way possible. Max De Pree
If you spend your life trying to be good at everything, you will never be great at anything. Tom Rath
If you want something new, you have to stop doing something old. Peter F. Drucker Click to tweet
If the highest aim of a captain were to preserve his ship, he would keep it in port forever. Thomas Aquinas
To be happy we need something to solve. Happiness is therefore a form of action. Mark Manson
Doing the right thing is more important than doing the thing right. Peter F. Drucker
Leaders walk a fine line between self-confidence and humility. Stanley McChrystal
There are two ways of being creative. One can sing and dance. Or one can create an environment in which singers and dancers flourish. Warren Bennis
A leader is one who sees more than others see, who sees farther than others see, and who sees before others see. Leroy Eimes
Wise leaders generally have wise counselors because it takes a wise person themselves to distinguish them. Diogenes
When people are financially invested, they want a return. When people are emotionally invested, they want to contribute. Simon Sinek
A good leader is a person who takes a little more than his share of the blame and a little less than his share of the credit. John C. Maxwell
If our drive to get and maintain power drains us and strains our relationships, we never truly enjoy our professional or material success and it's simply not worth it. Thich Nhat Hanh
You never change things by fighting the existing reality. To change something, build a new model that makes the existing model obsolete. Buckminster Fuller
If you really want the key to success, start by doing the opposite of what everyone else is doing. Brad Szollose
If a man knows not to which port he sails, no wind is favorable. Seneca
More words of wisdom
Part 3. Quotes About Leadership From The Greatest Leaders (Actual And Historical)
Quotes About Leadership From The Greatest Women Leaders
I have had a lot of setbacks that I have learned from. Susan Wojcicki (Youtube) Click to tweet
Find the smartest people you can and surround yourself with them. Marissa Meyer (Google, Yahoo)
A truly equal world would be one where women ran half our countries and companies and men ran half our homes. Sheryl Sandberg (Facebook)
Leadership is the expectation that you can use your voice for good, that you can make the world a better place. Sheryl Sandberg
I am not in favour of quotas. Just put the best person into the job. It is not about gender; it is about experience, leadership and vision. Angela Ahrendts (Apple Retail Business)
To do what you wanna do, to leave a mark – in a way that you think is important and lasting – that's a life well-lived. Laurene Powell Jobs (American businesswoman, widow of Steve Jobs)
We are responsible for each other. I am trying to convince doubters. There is still work to do. Angela Merkel (German politician)
It does not make sense that everybody should duplicate efforts when we could be working together. Theresa May (British politician)
A woman with a voice is by definition a strong woman. But the search to find that voice can be remarkably difficult. Melinda Gates (American philanthropist)
Connect deeply with others. Our humanity is the one thing that we all have in common. Melinda Gates
If you do every job like you're going to do it for the rest of your life, that's when you get noticed. Mary Barra (CEO of General Motors)
Even a small reduction in errors and rework can have a significant impact. Abigail Johnson (Fidelity Investments)
Forget about the fast lane. If you really want to fly, just harness your power to your passion. Oprah Winfrey (American media proprietor)
Turn your wounds into wisdom. Oprah Winfrey Click to tweet
To me, leadership is about encouraging people. It's about stimulating them. It's about enabling them to achieve what they can achieve – and to do that with a purpose. Christine Lagarde (International Monetary Fund)
The price of inaction is far greater than the cost of a mistake. Meg Whitman (American business executive)
It's all to do with the training: you can do a lot if you're properly trained. Queen Elizabeth II (Queen of the United Kingdom, Canada, Australia, and New Zealand since 6 February 1952)
Women are the largest untapped reservoir of talent in the world. Hillary Clinton (American statesman)
As more and more women, men and young people raise their voices and become active in local government, and more local leaders take action for the safety of women and girls, change happens. Michelle Bachelet (Chile)
'Never look back' is my philosophy. Helen Clark (New Zealand)
We do not need magic to transform our world. We carry all of the power we need inside ourselves already. J.K. Rowling (Harry Potter)
There are still many causes worth sacrificing for, so much history yet to be made. Michelle Obama (ex first lady of United-States)
We need to do a better job of putting ourselves higher on our own 'to do' list. Michelle Obama
To achieve something meaningful, you need to know where you are heading and be willing to train hard to get there. Arianna Huffington (Greek American author)
I don't want other people to decide who I am. I want to decide that for myself. Emma Watson (British actress, activist, Harry Potter)
A woman without a man is like a fish without a bicycle. Gloria Steinem (American feminist and activist)
Without leaps of imagination, or dreaming, we lose the excitement of possibilities. Dreaming, after all, is a form of planning. Gloria Steinem
Greatness is consistency driven by a deep love of the work. Maria Popova Maria Popova (Bulgarian-born writer, brainpickings.org)
A leader who doesn't hesitate before he sends his nation into battle is not fit to be a leader. Golda Meir (Israeli teacher)
Turbulence is the beginning of a fruitful process of transformation. Indra Nooyi (PepsiCo)
We realize the importance of our voices only when we are silenced. Malala Yousafzai (Pakistani activist, youngest Nobel Prize laureate)
Do not wait for leaders; do it alone, person to person. Mother Teresa (Albanian-Indian Roman Catholic nun and missionary)
Quotes About Leadership From The Greatest Men Leaders
No one can grow if he does not accept his smallness. Pope Francis (266th Pope of the Catholic Church)
Someone is sitting in the shade today because someone planted a tree a long time ago. Warren Buffett (American business magnate, second-highest amount given to charity ($30.7 billion) among the greatest philanthropists)
Strength and wisdom are not opposing values. Bill Clinton (42nd President of the United States)
Our prime purpose in this life is to help others. And if you can't help them, at least don't hurt them. Dalai Lama (real name Tenzin Gyatso, 14th Dalai Lama)
If you can't tolerate critics, don't do anything new or interesting. Jeff Bezos (Amazon.com)
A leader should have higher grit and tenacity, and be able to endure what the employees can't. Jack Ma (Alibaba)
It doesn't matter how great your original product or idea is, if you can't build a great company, then your product will not endure. Brian Chesky (Airbnb)
When something is important enough, you do it even if the odds are not in your favor. Elon Musk (Tesla, SpaceX)
Leadership should be focused on extending the ladder of opportunity for everyone. Justin Trudeau (23rd Prime Minister of Canada)
In order to remain relevant, you must establish yourself as a thought leader in your industry. Marc BenioffMarc Benioff (Salesforce)
The best cure for the body is a quiet mind. Napoleon Bonaparte (French statesman and military leader)
The truest wisdom is a resolute determination. Napoleon Bonaparte Click to tweet
The hardest thing about being a leader is demonstrating or showing vulnerability… When the leader demonstrates vulnerability and sensibility and brings people together, the team wins. Howard Schultz (Starbucks)
I think if you do something and it turns out pretty good, then you should go do something else wonderful, not dwell on it for too long. Just figure out what's next. Steve Jobs (Apple)
The sidelines are not where you want to live your life. The world needs you in the arena. Tim Cook (Apple)
Abundance is not about providing everyone on this planet with a life of luxury—rather it's about providing all with a life of possibility. Peter Diamandis (X Prize Foundation, Greek American engineer)
Nearly all men can stand adversity, but if you want to test a man's character, give him power. Abraham Lincoln (16th President of the United States)
My country is the world, and my religion is to do good. Thomas Paine (English-born American political activist)
You have as much laughter as you have faith. Martin Luther (German professor of theology, composer, priest, and monk) Click to tweet
You must not lose faith in humanity. Humanity is an ocean; if a few drops of the ocean are dirty, the ocean does not become dirty. Mahatma Gandhi (Indian activist, leader of the Indian independence movement against British rule)
Thousands of candles can be lighted from a single candle, and the life of the candle will not be shortened. Buddha (sage, on whose teachings Buddhism was founded)
Be kind, for everyone you meet is fighting a hard battle. Plato (Greek philosopher)
It does not matter how slowly you go so long as you do not stop. Confucius (Chinese teacher)
They who can give up essential liberty to obtain a little temporary safety deserve neither liberty nor safety. Benjamin Franklin (polymath and one of the Founding Fathers of the United States)
Know thy self, know thy enemy. A thousand battles, a thousand victories. Sun Tzu (Chinese general, military strategist)
I am the captain of my soul. Nelson Mandela (South African anti-apartheid revolutionary)
Quotes About Leadership From Presidents And Prime Ministers
Making your mark on the world is hard. If it were easy, everybody would do it. But it's not. It takes patience, it takes commitment and it comes with plenty of failure along the way. Barack Obama (44th President of the United States from 2009 to 2017)
If you work hard and meet your responsibilities, you can get ahead, no matter where you come from, what you look like or who you love. Barack Obama
It is absolutely necessary… for me to have persons that can think for me, as well as execute orders. George Washington (first President of the United States from 1789 to 1797)
Old minds are like old horses; you must exercise them if you wish to keep them in working order. John Adams (second President of the United States from 1797-1801)
Whenever you do a thing, act as if all the world were watching. Thomas Jefferson (third President of the United States from 1801 to 1809)
If your actions inspire others to dream more, learn more, do more and become more, you are a leader. John Quincy Adams (sixth President of the United States from 1825 to 1829)
Human kindness has never weakened the stamina or softened the fiber of a free people. A nation does not have to be cruel to be tough. Franklin D. Roosevelt (32nd President of the United States from 1933 until his death in 1945)
You do not lead by hitting people over the head – that's assault, not leadership. Dwight D. Eisenhower (34th President of the United States from 1953 to 1961)
The supreme quality of leadership is integrity. Dwight D. Eisenhower
Leadership is the art of getting someone else to do something you want done because he wants to do it. Dwight D. Eisenhower
Pull the string, and it will follow wherever you wish. Push it, and it will go nowhere at all. Dwight D. Eisenhower
Things do not happen. Things are made to happen. John F. Kennedy (35th President of the United States from January 1961 until his assassination in November 1963)
Those who dare to fail miserably can achieve greatly. John F. Kennedy Click to tweet
The greater our knowledge increases, the more our ignorance unfolds. John F. Kennedy
Let us never negotiate out of fear. But let us never fear to negotiate. John F. Kennedy
There are risks and costs to action. But they are far less than the long-range risks of comfortable inaction. John F. Kennedy
The time to repair the roof is when the sun is shining. John F. Kennedy
Victory has a hundred fathers and defeat is an orphan. John F. Kennedy
As we express our gratitude, we must never forget that the highest appreciation is not to utter words, but to live by them. John F. Kennedy
Man is still the most extraordinary computer of all. John F. Kennedy
Change is the law of life. And those who look only to the past or present are certain to miss the future. John F. Kennedy
Doing what is right isn't the problem. It is knowing what is right. Lyndon B Johnson (36th President of the United States from 1963 to 1969)
The greatest leader is not necessarily the one who does the greatest things. He is the one that gets the people to do the greatest things. Ronald Reagan (40th President of the United States from 1981 to 1989)
You are not here merely to make a living. You are here in order to enable the world to live more amply, with greater vision, with a finer spirit of hope and achievement. You are here to enrich the world, and you impoverish yourself if you forget the errand. Woodrow Wilson (28th President of the United States from 1913 to 1921)
Continuous effort – not strength or intelligence – is the key to unlocking our potential. Winston Churchill (Prime Minister of the United Kingdom from 1940 to 1945 and again from 1951 to 1955)
Don't follow the crowd, let the crowd follow you. Margaret Thatcher (Prime Minister of the United Kingdom from 1979 to 1990)
Part 4. Quotes About Leadership For Kids, Students And The Next Generation
Good leaders must first become good servants. Robert Greenleaf Click to tweet
Part 1. Our society is founded on a very limited definition of power, namely wealth, professional success, fame, physical strength, military might, and political control. Thich Nhat Hanh
Part 2. My dear friends, I suggest that there is another kind of power, a greater power: the power to be happy right in the present moment, free from addiction, fear, despair, discrimination, anger and ignorance. Thich Nhat Hanh
Outstanding leaders go out of their way to boost the self-esteem of their personnel. If people believe in themselves, it's amazing what they can accomplish. Sam Walton (Wal-Mart)
I never thought in terms of being a leader. I thought very simply in terms of helping people. John Hume
Leadership and learning are indispensable to each other. John F. Kennedy
The less you talk, the more people think about your words. Unknown
If you knew how much work went into it, you wouldn't call it genius. Michelangelo
A teacher affects eternity; he can never tell where his influence stops. Henry Adams
If we did the things we are capable of, we would astound ourselves. Thomas Edison Click to tweet
Be who you are and say what you feel, because those who mind don't matter and those who matter don't mind. Dr. Seuss
Many of life's failures are people who did not realize how close they were to success when they gave up. Thomas Edison
If you have built castles in the air, your work need not be lost; that is where they should be. Now put the foundations under them. Henry David Thoreau
All our dreams can come true – if we have the courage to pursue them. Walt Disney
Whatever you can do, or dream you can, begin it. Boldness has genius, power, and magic in it. Johann Wolfgang von Goethe
Leaders aren't born they are made. And they are made just like anything else, through hard work. And that's the price we'll have to pay to achieve that goal, or any goal. Vince Lombardi
The challenge of leadership is to be strong but not rude; be kind, but not weak; be bold, but not a bully; be humble, but not timid; be proud, but not arrogant; have humor, but without folly. Jim Rohn
I cannot give you the formula for success, but I can give you the formula for failure: which is: Try to please everybody. Herbert B. Swope
You don't lead by pointing and telling people some place to go. You lead by going to that place and making a case. Ken Kesey
Successful leaders see the opportunities in every difficulty rather than the difficulty in every opportunity. Reed Markham
The future belongs to those who believe in the beauty of their dreams. Eleanor Roosevelt
A leader is one who knows the way, goes the way, and shows the way. John C. Maxwell
See also: 18 Tips To Be a More Successful Young Leader (huffingtonpost.com)
Part 5. Conclusion
People buy into the leader before they buy into the vision. John C. Maxwell Click to tweet
Call to action: Read 5 Steps to Great Leadership (verywellmind.com)
Table Of Contents
Share this page today
Download this free high quality printable