By Maxime Lagacé
Maxime is the founder and chief editor of WisdomQuotes. He has been collecting quotes since 2004. His goal? To help you develop a calm, powerful, and peaceful mind. Learn more about him on his about page.
I've read over 150 000 quotes since 2004.
And sometimes, the most inspiring quotes are not the longest.
On the contrary, they tend to be small. Very small. Like two words long.
Here are 101 two word quotes that will give you motivation and inspiration (for your life, your work, and today!).
Enjoy!
Accept more
Accept yourself
Accept others
Baby steps
Be disciplined
Be creative
Be fearless
Be kind
Be present
Be peaceful
Be proud
Be still
Be thankful
Be tolerant
Be true
Be yourself
Beautiful mind
Breathe deeply
Care deeply
Carpe diem
Create value
Don't hate
Don't quit
Don't lie
Don't rush
Dream big
Enjoy life
Feel free
Feel happy
Forgive fast
Give hope
Give love
Give thanks
Good vibes
Have faith
Hold on
I can
Infinite possibilities
I will
Inhale, exhale
Inner peace
Just imagine
Just start
Keep calm
Keep going
Laugh often
Let go
Let's go!
Live deeply
Live simply
Look forward
Look up
Love life
Love more
Master yourself
Meditate daily
More acceptance
More love
More peace
More silence
Move daily
Move forward
Move on
Never settle
Never quit
No distractions
No stress
Not yet
One life
Play hard
Shit happens
Simply happy
Simply me
Slow down
Start creating
Start now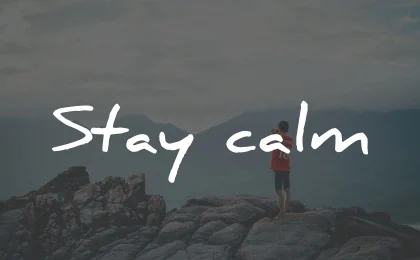 Stay calm
Stay curious
Stay detached
Stay focused
Stay foolish
Stay humble
Stay positive
Stay strong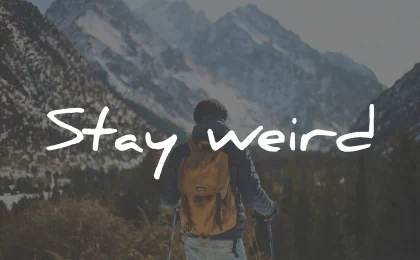 Stay weird
Stop consuming
Stop pretending
Take chances
Take risks
Think different
Think deeply
Trust yourself
Try again
What if
Why not
Worry less
Work hard
Work smart
You can
You matter
You will
Conclusion
Did you find your favorite two word quote?
Mine is "Stay foolish" which resonates with me deeply.
It reminds me of 3 important things:
Life is hard and you must keep moving forward, no matter what happens.
Life doesn't always make sense. That's why you need to "stay foolish to stay sane".
Life is a game and you must not take it too seriously. After all, we all die. (I know it seems dire, but it's also liberating)
By the way, the idea for "Stay foolish" came from Steve Jobs's famous quote "Stay hungry, stay foolish."
Those words were the final words in his commencement speech at Stanford in 2005.
FURTHER READINGS
Which quote would you add? What's your favorite two word quote? And remember: words can transform your life, if you find the right ones.
Thanks for your feedback!