By Maxime Lagacé
Maxime is the founder and chief editor of WisdomQuotes. He has been collecting quotes since 2004. His goal? To help you develop a calm, powerful, and peaceful mind. Learn more about him on his about page.

I've collected 77 of the most inspiring life lessons quotes I could find.
Me in 2004:
Confused
Depressed
Didn't know who I was
Me today:
2 kids
Married
More peaceful than ever
Yet, my life is not perfect.
But I've learned many life lessons.
What's the goal of this page?
To share my own life lessons and many more from the best minds that ever lived.
I made mistakes.
But you don't have to do them.
Enjoy!
Life taught me love is risky. Death taught me to love even more. Maxime Lagacé
Care about what other people think and you will always be their prisoner. Lao Tzu
The biggest lesson I learned this year is to not force anything; conversations, friendships, relationships, attention, love. Anything forced is just not worth fighting for, whatever flows flows, what crashes crashes. Amanda Rose
My whole teaching consists of two words, meditation and love. Meditate so that you can feel immense silence, and love so that your life can become a song, a dance, a celebration. Osho
My greatest life lesson has been that life can change in a second. This is why it's important to always live your best possible life and to do what you can for others. Niki Taylor
You're never wrong if you love and help people. Maxime Lagacé
The Universe is one great kindergarten for man. Everything that exists has brought with it its own peculiar lesson. Orison Swett Marden
I've learned that no matter what happens, or how bad it seems today, life does go on, and it will be better tomorrow. Maya Angelou
You can build your own things that other people can use. And once you learn that, you'll never be the same again. Steve Jobs
Don't wait for a Guru. Your life is your Guru. Krishna Das
Learn from yesterday, live for today, hope for tomorrow. The important thing is not to stop questioning. Albert Einstein
It's never too late to reinvent yourself. Marc Russell Scarioni
When you want something in life, you just gotta reach out and grab it. Christopher McCandless (Into The Wild movie)
Our crisis is no longer material; it's existential, it's spiritual. We have so much fucking stuff and so many opportunities that we don't even know what to give a fuck about anymore. Mark Manson
Take nothing on its looks; take everything on evidence. There's no better rule. Charles Dickens
Try to accomplish things you have always dreamt of while you can. I know it sounds cliche, but the biggest lesson I have learned is that life is precious; enjoy it while it lasts. Lisa Ling
The biggest lesson I've learned is that hurt people hurt people, and kindness is just as contagious. So if you can focus your efforts on engineering kindness, it will prevail. Whitney Wolfe Herd
The biggest lesson I learned from my dad is to support children even if they're doing something that is unorthodox. Tony Hawk
Learning to appreciate those things that aren't related to success has proved the biggest lesson. Chet Faker
Life's too mysterious to take too serious. Mary Engelbreit
Related
The biggest lesson we have to give our children is truth. Goldie Hawn
You learn more in 1 hour of doing than 10 hours of listening. Maxime Lagacé
My biggest lesson in becoming a woman is to really love what I've been given. Lyndsy Fonseca
When you share your story and become vulnerable, the ripple effect and the people that you can help along the way is a life lesson. Sophie Gregoire Trudeau
I have no projects on the horizon. I don't feel frustrated. It's a great life lesson for me. Christine Taylor
It's not a loss, it's a lesson. Unknown
Life is a succession of lessons which must be lived to be understood. Helen Keller
To live a good life: We have the potential for it. If we can learn to be indifferent to what makes no difference. Marcus Aurelius
Patience is a virtue, and I'm learning patience. It's a tough lesson. Elon Musk
In every success story, you will find someone who has made a courageous decision. Peter F. Drucker
There's beauty in pain, and everyone experiences it – and it's a lesson. Wynter Gordon
Your life improves once you realizes no one cares. Dan Go (Source)
I am what I am. I don't worry about anything that I can't control. That's a really good lesson in life. Tom Watson
Education has failed in a very serious way to convey the most important lesson science can teach: skepticism. David Suzuki
Related: 30 life lessons I learned before turning 30 (nesslabs.com)
The one thing that I keep learning over and over again is that I don't know nothing. I mean, that's my life lesson. Dwayne Johnson
The one lesson I have learned is that there is no substitute for paying attention. Diane Sawyer
Happiness is fleeting – I think that's the main lesson I have learned. Cate Blanchett
The only game worth playing is the one where you take nothing for granted. Maxime Lagacé
I learned long ago, never to wrestle with a pig. You get dirty, and besides, the pig likes it. George Bernard Shaw
Success is a process that continues, not a status that you reach. If you are alive, there are lessons to be learned. Denis Waitley
The chief danger in life is that you may take too many precautions. Alfred Adler
He has not learned the first lesson of life who does not every day surmount a fear. John Dryden
The only beautiful path is the one you create. Maxime Lagacé
If we admit that human life can be ruled by reason, then all possibility of life is destroyed. Christopher McCandless (Into The Wild movie)
A lesson learned from suffering is not easily forgotten. Unknown
The biggest lesson is to keep going and almost never look back. Maxime Lagacé
If there's a single lesson that life teaches us, it's that wishing doesn't make it so. Lev Grossman
Most of life is about searching, it's not about doing. People spend too much time doing and not thinking about what they should be doing. Naval Ravikant
We are addicted to our thoughts. We cannot change anything if we cannot change our thinking. Santosh Kalwar
Time heals almost everything. Give time time. Regina Brett
Nothing you do is going to matter that much in the long run. Don't take yourself so seriously. Naval Ravikant
A fear-oriented man is always calculating, planning, arranging, safeguarding. His whole life is lost in this way. Osho (Rajneesh) (wikipedia.org)
Everyone has a lesson to teach you. Lex Fridman
A man's most urgent necessity is neither happiness or money. It is wisdom. For it is wisdom that he will need to navigate the turbulent waters of his day to day existence without succumbing to the ocean of turmoils or to the empty road of prescriptions. Kapil Gupta
Do what is right, not what is easy nor what is popular. Roy T. Bennett
Hard lessons are hard to forget. Let hardship be a source of knowledge, not bitterness. Wisdom is hard-won. The Stoic Emperor (Source)
Timeless: Science, math, philosophy, rhetoric, first principles, creating art and business, family and lifelong friends, habits to calm mind and body. Temporary: Politics, news, entertainment, memorizing facts, hourly work, transactional relationships, drugs and doctors for mind and body. Naval Ravikant
Doubt is wisdom. People are dangerous when they are certain that their cause is just and their facts are right. Paulo Coelho
Life is a long lesson in humility. James M. Barrie
The big lesson in life is never be scared of anyone or anything. Unknown
The hardest thing to learn in life is which bridge to cross and which bridge to burn. David Russell
A little foolishness, enough to enjoy life, and a little wisdom to avoid the errors, that will do. Osho
Good judgment comes from experience, and experience comes from bad judgment. Rita Mae Brown
People tend to complicate their own lives, as if living weren't already complicated enough. Carlos Ruiz Zafón
Acquiring wisdom is a moral duty as well as a practical one. Shane Parrish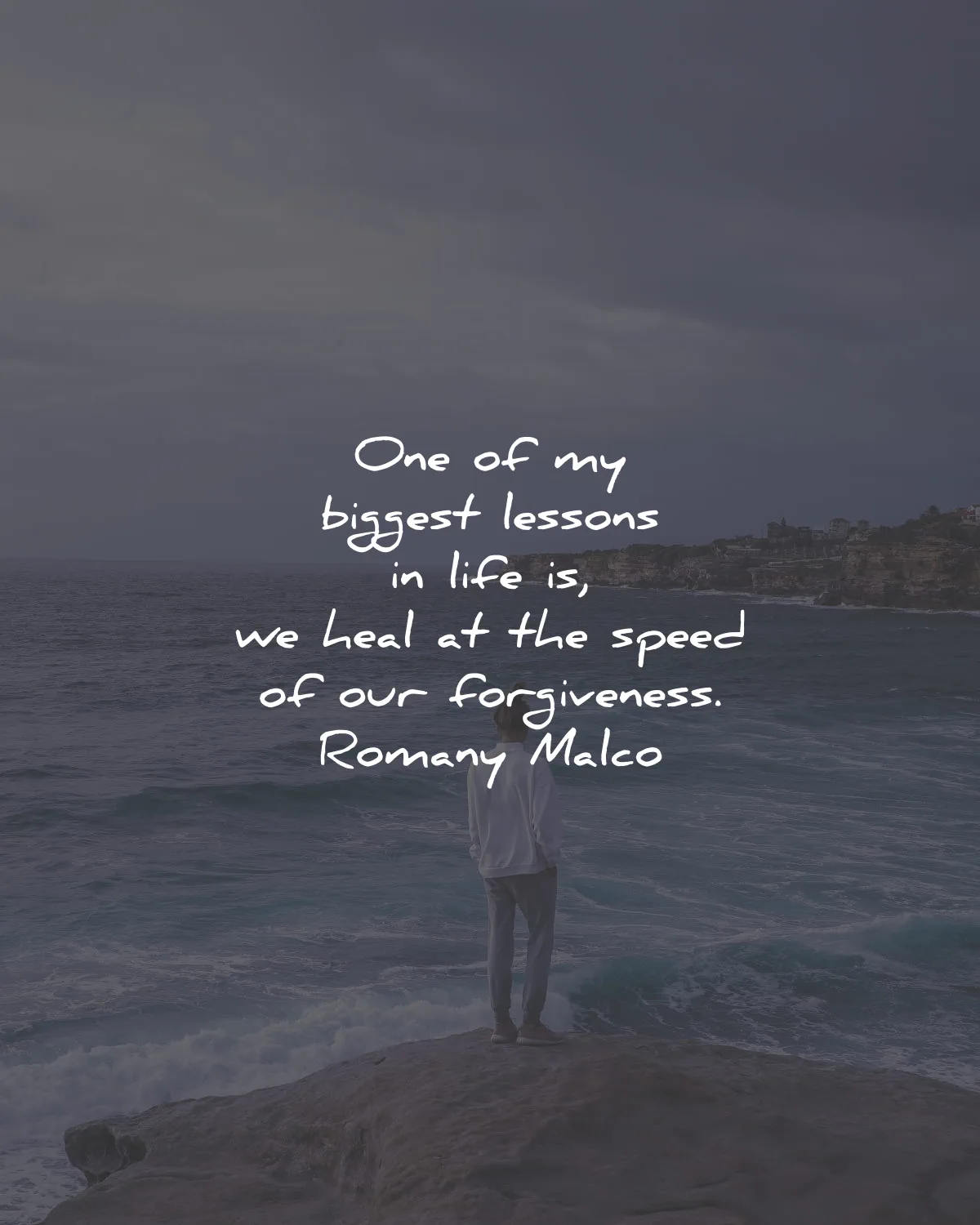 One of my biggest lessons in life is, we heal at the speed of our forgiveness. Romany Malco
Blessed is he who expects nothing, for he shall never be disappointed. Alexander Pope
Instead of worrying about what you cannot control, shift your energy to what you can create. Roy T. Bennett
Life changes for the better when we realize that we don't have to know everything and we don't have to pretend that we do. Simon Sinek
All you have to do is pay attention: lessons always arrive when you are ready. Paulo Coelho
You can't find peace if you expect life to be easy. Maxime Lagacé
When it hurts – observe. Life is trying to teach you something. Anita Krizzan
Biggest lesson in life: don't ever think it can't happen to you. Aaron Will (Source)
Some thoughts on life lessons…
Unpopular opinion:
we should be grateful for hard times
Why?
Because this is the exact moment we can reflect, learn, struggle, and eventually grow in life.
When things are easy, we keep going without changing anything.
Now, when things are going bad, it's the perfect time to adjust and change something.
Back in 2004, I lost my girlfriend in a car accident.
Fortunately, a few years later, I can say it was probably the thing I needed to become who I am today.
I became stronger, more grounded, more resilient, more respectful, less cocky, and less entitled.
In sum,
It's because times were hard that I had the opportunity to learn and become a more humble human being.
Further Readings
Hope you enjoyed these beautiful life lessons quotes. If you did, please share them with a friend today!
Which life lesson did YOU learn? What's your favorite life lesson quote? And remember: words can transform your life, if you find the right ones.
Pin this image!

Thanks for your feedback!