By Maxime Lagacé
Maxime is the founder and chief editor of WisdomQuotes. He has been collecting quotes since 2004. His goal? To help you develop a calm, powerful, and peaceful mind. Learn more about him on his about page.
NEW: Get The Peace of Mind Checklist. It's FREE.
Here are 100 of the best faith quotes I could find. My goal? To inspire you and make you feel you can do anything if you truly believe. Keep going my friend. Enjoy!
We are twice armed if we fight with faith. Plato
Faith is a passionate intuition. William Wordsworth
Faith is the bird that feels the light when the dawn is still dark. Rabindranath Tagore
Faith is unseen but felt, faith is strength when we feel we have none, faith is hope when all seems lost. Catherine Pulsifer
The seeds of courage sprouts in the soil of perseverance and become faith. Maxime Lagacé
Faith is an oasis in the heart which will never be reached by the caravan of thinking. Kahlil Gilbran
The greatest religion is to be true to your own nature. Have faith in yourselves. Swami Vivekananda
Faith is not belief without proof, but trust without reservation. D. Elton Trueblood
Faith is to believe what you do not see; the reward of this faith is to see what you believe. Augustine of Hippo
To one who has faith, no explanation is necessary. To one without faith, no explanation is possible. Thomas Aquinas
It's faith in something and enthusiasm for something that makes a life worth living. Oliver Wendell Holmes
Without faith, nothing is possible. With it, nothing is impossible. Mary McLeod Bethune
None of us knows what might happen even the next minute, yet still we go forward. Because we trust. Because we have faith. Paulo Coelho (Brida, Amazon book)
Faith is realizing that you always get what you need. Sri Sri Ravi Shankar
My obligation is to do the right thing. The rest is in God's hands. Martin Luther King Jr
Related
The Best Faith Quotes
Go to table of contents

Those who have weak faith themselves cannot arouse faith in others. Lao Tzu
Faith is the subject of the head. Devotion is the subject of the heart and meditation connect both. Sri Sri Ravi Shankar
That is the definition of faith – acceptance of that which we imagine to be true, that which we cannot prove. Dan Brown
Never be afraid to trust an unknown future to a known God. Corrie ten Boom
What's the point of believing if I don't believe fully? Maxime Lagacé
Faith is the art of holding on to things your reason has once accepted, in spite of your changing moods. C.S. Lewis
Faith is what is left after all your beliefs have been blown to hell. Ram Dass
And whatever you ask in prayer, you will receive, if you have faith. Matthew 21:22
Now faith is confidence in what we hope for and assurance about what we do not see. Hebrews 11:1
And, when you want something, all the universe conspires in helping you to achieve it. Paulo Coelho (The Alchemist, Amazon book)
Maybe it's not working out, because God is working out something better. Sometimes it takes your break down to create your breakthrough. Sometimes our greatest blessings come from our biggest disappointments. Kimberly Jones-Pothier
Faith certainly tells us what the senses do not, but not the contrary of what they see; it is above, not against them. Blaise Pascal
Faith is a place of mystery, where we find the courage to believe in what we cannot see and the strength to let go of our fear of uncertainty. Brené Brown
Faith is the strength by which a shattered world shall emerge into the light. Helen Keller
Faith and prayerfulness in tough times and service and humility in good times are the ways of the wise. Sri Sri Ravi Shankar
Your most important asset is having faith in yourself. You can have all the world's resources at your disposal and still fail if you don't believe in yourself. @LifeMathMoney
Experience is a gift – but naïveté, blind faith, and not knowing the rules can also be a real advantage. Gary Vaynerchuk
Everyone knows that the soft overcomes the hard and the yielding triumphs over the rigid. Why then so little faith? Why can no one practice it? Lao Tzu (Tao Te Ching, Amazon book)
Faith means you have it in your heart before you have it in your circumstances. Kimberly Jones-Pothier
The antidote to frustration is a calm faith, not in your own cleverness, or in hard toil, but in God's guidance. Norman Vincent Peale
When a person is devoted to something with complete faith, I unify his faith in that. Then, when his faith his completely unified, he gains the object of his devotion. Bhagavad Gita
Faithful, intent, his senses subdued, he gains knowledge; gaining knowledge, he soon finds perfect peace. Bhagavad Gita
The universe heard you now all you have to do is trust it's timing. Andrew Zaffina
First make the decision. The 'how' will come along the way. Gal Shapira
Don't settle, and don't struggle. Life is what flows in between. Naval Ravikant
Part 2. Faith Quotes That Are…
The Most Famous Faith Quotes (Helen Keller, Emerson, Obama, etc.)
Go to table of contents

Faith is taking the first step even when you don't see the whole staircase. Martin Luther King Jr
If you lose faith, you lose all. Eleanor Roosevelt
We are never defeated unless we give up on God. Ronald Reagan
Our faith changes us. I know it's changed me. It renews in us a sense of possibility. Barack Obama
Be faithful in small things because it is in them that your strength lies. Mother Teresa
Faith is a gift that keeps alive a profound and beautiful certainty: that we are God's beloved children. Pope Francis
What we need today are universal values based not on faith but on scientific findings, common experience and common sense. 14th Dalai Lama
Believe in yourself when nobody else does. Mary J. Blige
Scientists were rated as great heretics by the church, but they were truly religious men because of their faith in the orderliness of the universe. Albert Einstein
All I have seen teaches me to trust the Creator for all I have not seen. Ralph Waldo Emerson
Faith activates God – Fear activates the Enemy. Joel Osteen
Faith is different from proof; the latter is human, the former is a gift from God. Blaise Pascal
All the world is made of faith, and trust, and pixie dust. J.M. Barrie (Peter Pan)
You must not lose faith in humanity. Humanity is like an ocean; if a few drops of the ocean are dirty, the ocean does not become dirty. Mahatma Gandhi
The love of heaven makes one heavenly. William Shakespeare
Faith consists in believing when it is beyond the power of reason to believe. Voltaire
God will never give you anything you can't handle, so don't stress. Kelly Clarkson
I have one life and one chance to make it count for something… I'm free to choose what that something is, and the something I've chosen is my faith. Now, my faith goes beyond theology and religion and requires considerable work and effort. My faith demands – this is not optional – my faith demands that I do whatever I can, wherever I am, whenever I can, for as long as I can with whatever I have to try to make a difference. Jimmy Carter
I find your lack of faith disturbing. Darth Vader
Faith in Christ is the only thing to save you from despair. C.S. Lewis (The Joyful Christian, Amazon book)
It is so hard to believe because it is so hard to obey. Søren Kierkegaard
Short Faith Quotes
One-liners, short faith quotes, sayings, thoughts, and captions for your bio, social status, self-talk, motto, mantra, signs, posters, wallpapers, and backgrounds.

Whoso loves, believes the impossible. Elizabeth Barret Browning
Your beliefs are your bondage. Thibaut
Belief clings, but faith lets go. Alan Watts
The principle part of faith is patience. George MacDonald
Faith means not wanting to know what is true. Friedrich Nietzsche
Stand straight, walk proud, have a little faith. Garth Brooks
Faith means you keep the dream more alive than reality. Maxime Lagacé
Leap of faith – yes, but only after reflection. Søren Kierkegaard
Don't chase, what is meant for you will find you. Kimberly Jones-Pothier
The more you surrender, the more faithful you'll feel. Gabby Bernstein
Faith is not belief. Belief is passive. Faith is active. Edith Hamilton
Prayer should be the key of the day and the lock of the night. George Herbert
Hope is putting faith to work when doubting would be easier. Paulo Coelho
The wiser you get the more you trust your process. You know results are out of your control. Maxime Lagacé
To achieve anything in life you have to believe that you can. Rhonda Byrne
Have a plan for today, keep the joy of yesterday, be hopeful for tomorrow. John Cena
All belief systems are just the stories we create in order to deal with the void. Jed McKenna
Inspirational Faith Quotes
Go to table of contents

If you think you can win, you can win. Faith is necessary to victory. William Hazlitt
Believers, look up – take courage. The angels are nearer than you think. Billy Graham
Through hard work, perseverance and a faith in God, you can live your dreams. Ben Carson
Fear makes you weak. Faith makes you strong. Maxime Lagacé
My faith didn't remove the pain, but it got me through the pain. Trusting God didn't diminish or vanquish the anguish, but it enabled me to endure it. Robert Rogers
You have to grow from the inside out. None can teach you, none can make you spiritual. There is no other teacher but your own soul. Swami Vivekananda
Faith gives you an inner strength and a sense of balance and perspective in life. Gregory Peck
True faith is faith only if the actions of your life are in harmony with it and never contradict it. Leo Tolstoy
He who has faith has… an inward reservoir of courage, hope, confidence, calmness, and assuring trust that all will come out well – even though to the world it may appear to come out most badly. B. C. Forbes
You are not taking action because you don't believe you can achieve it. When a belief is formed, it is immediately transmuted into consistent action. Gal Shapira
There are two kinds of people: Those who say "I will believe it when I see it." And those who say, "To see it, I know I must believe it." Rhonda Byrne
A garden is evidence of faith. It links us with all the misty figures of the past who also planted and were nourished by the fruits of their planting. Gladys Taber
Just mind your own business and be the light. Trust that everyone is on their own spiritual path and timeline. Your loved ones may not ever share your beliefs, but that doesn't matter. Stay committed to your faith and the Universe will take care of the rest. Gabby Bernstein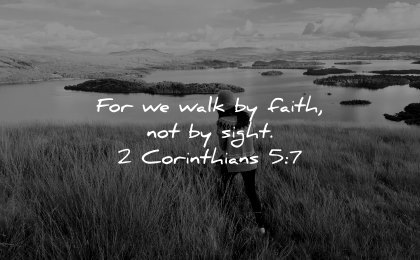 For we walk by faith, not by sight. 2 Corinthians 5:7
Faith is not desire. Faith is will. Desires are things that need to be satisfied. Will is a force that changes everything around us. Paulo Coelho
If your faith remains unshaken despite a hundred events that Nature brings to you, then you are a perfected person and life becomes smooth. Sri Sri Ravi Shankar
One person believing in you can change everything. If you can, be that person for someone else. @orangebook_
Believing involves thinking, talking and acting as though you have already received what you've asked for. Rhonda Byrne
Slow down. Lose yourself in something. Be moved to emotions. Cry. Laugh. Love limitless. Live. John Cena
Related: How To Believe In Yourself With Unshakable Faith (blog.mindvalley.com)
Part 3. Conclusion
A person will worship something, have no doubt about that. We may think our tribute is paid in secret in the dark recesses of our hearts, but it will out. That which dominates our imaginations and our thoughts will determine our lives, and our character. Therefore, it behooves us to be careful what we worship, for what we are worshipping we are becoming. Ralph Waldo Emerson
Further Readings